รายละเอียดเพิ่มเติม...
หัวแอมป์เบส Positive Grid Bias Mini Bass Head
300-watt Bass Head Driven by BIAS Amp Pro
The Positive BIAS Mini Bass is destined to become the most versatile amp you've ever owned. If your favorite amplifier is big and heavy, capture its essence with BIAS's Amp Match technology, then load it into the BIAS Mini Bass for an easy-to-carry stage solution. You can also choose from thousands of downloadable amp models from the BIAS ToneCloud. The BIAS Mini Bass has enough power to push nearly any cabinet, or you can plug straight into a PA or console via its direct output. It also features an effects loop for integrating your external processors, and a built-in noise gate for keeping things tight and clean. The BIAS Mini Bass unlocks infinite tonal possibilities.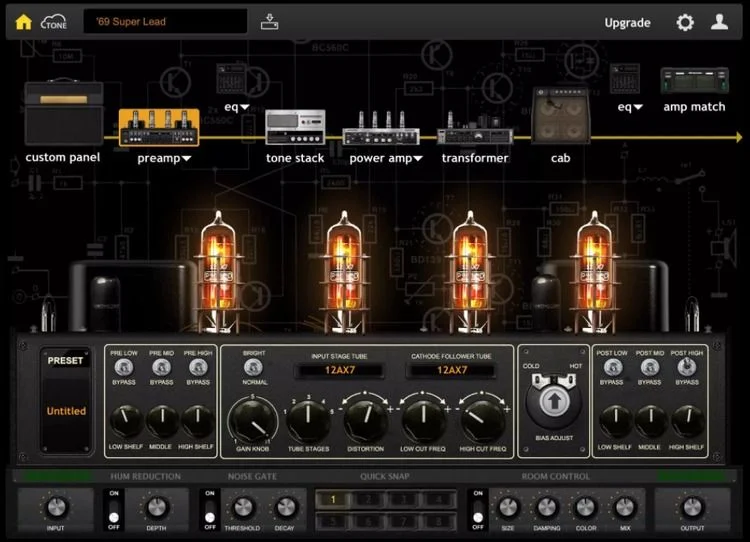 Easy to upload new tones, even onstage
It's easy to update the presets in your BIAS Mini Bass. At home or in your studio, just connect the BIAS Mini Bass to your computer via USB to upload new tones. And it can connect to your iOS device via Bluetooth, allowing you to make last-minute changes to your presets using the BIAS Amp app even if you're at the gig away from your computer.

Re-create Tones with Amp Match
Capture the tone of any amplifier
Using the BIAS Amp Pro software, you can capture the sound of real amplifiers and put them in your BIAS Mini Bass. It's a great way to take the sound of your prized amplifier onstage while leaving it safely at home, and also a smart solution for matching recorded bass tones too.
Amp Match re-creates tones fast
Matching a bass amplifier tone with BIAS Amp Pro is easy — all you need is a recording of the amp or bass tone you're trying to re-create. Then you create a similar amp in the BIAS Amp Pro software as a starting point, tell it to match it to the recorded bass tone, and it'll tweak your custom amp to sound like the target amplifier. You can then use the preset within the software, or load it as a preset in the BIAS Mini Bass.
Download custom amp models on BIAS ToneCloud
Visit the BIAS ToneCloud to access thousands of custom amp models created by signature recording artists and other bassists around the globe. You can also upload your own custom amp models to share your tone with the world.

Positive Grid BIAS Mini Bass Features:
Bass amp head offering full integration with BIAS Amp Pro software and BIAS Amp app
Stores 8 presets at a time for instant recall
300-watt power amplifier is ready to drive any 4-, 8-, or 16-ohm speaker cabinet
Create your own custom amplifier designs using the included software
Amp Match technology allows you to capture the essence of your favorite amplifier
Explore thousands of custom Amp Match presets via ToneCloud
Separate controls for FX send, line out, and speaker out provides more flexibility onstage
Integrates with BIAS Amp Pro software via USB, and with the BIAS Amp iOS app via Bluetooth
Effects loop for integrating your pedalboard
Built-in noise gate for keeping things quiet between phrases
Direct output for connecting to sound systems or recording devices
MIDI in for connecting to MIDI equipment