รายละเอียดเพิ่มเติม
เครื่องบันทึกเสียง ZOOM F4 Multi-Track Field Recorder
เครื่องบันทึกเสียงแบบดิจิตอล Zoom F4, Records 6 Inputs & Stereo Mix, 4 x High-Gain, Low-Noise Mic Preamps, Ambisonics, WAV & MP3 Formats, Compatible with Zoom Mic Capsules, Flexible Powering Options, Dual SD Card / USB Interface Recording, AutoMix Software Reduces Mix Noise, Precision Time Code Reader/Generator

Zoom F4, a sound bag–friendly, multi-track field recorder with look-ahead limiters for distortion-free 24-bit audio, and up to 6-input / 8-track recording for filmmaking and video content creation on set and in the field. Like other F-Series recorders such as the F6 and F8n, you can slide it in a sound bag, sling it over your shoulder, or mount it to a camera; the F4 packs quantity and quality into a rugged frame that's more than ready for filmmaking, production/location sound mixing, sound effects recording, and electronic news gathering (ENG).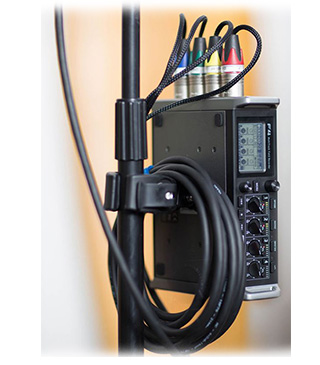 From the large, informative display and user-friendly controls to the flexible powering options and precision time code functionality, the F4 is properly equipped to please novices and demanding veterans alike. Whether you need long-duration stereo recording for an interview, redundant capture of multi-mic setups for a video shoot, or Ambisonics sound files for virtual reality and 360-audio projects, the F4 has the modes, resolutions, and media support to handle your crucial audio tasks.
Plus, its operational versatility ensures that the F4 will always enhance your workflow, be it simple, complex, or always changing. You can feel confident using it as your main recorder, a USB audio interface for your dedicated computer rig, or a backup unit for added safety. Since it supports dual SD card recording, 2-channel safety recording, and 6-second pre-recording, you can stop worrying about losing takes.
Features:
Indie Filmmaking, Video Content Creation
Look-Ahead Limiters Prevent Clipping
4 x High-Gain, Low-Noise Mic Preamps
Records 6 Inputs & Stereo Mix
Ambisonics, WAV & MP3 Formats
Compatible with Zoom Mic Capsules
Flexible Powering Options
Dual SD Card / USB Interface Recording
AutoMix Software Reduces Mix Noise
Precision Time Code Reader/Generator
Specifications
Portable Recorder
Number of Tracks
WAV:
8 (6 Inputs + Stereo Mix)
MP3:
2
Max Sample Rate/Resolution
192 kHz / 24-Bit
Built-In Speaker
No
Display
Monochrome LCD (Backlit)
Memory Card Support
SD (16 MB to 2 GB)
SDHC (4 to 32 GB)
SDXC (64 to 512 GB)
Internal Storage
None
Recording
Audio File Formats
BWF, ID3v1, MP3, WAV, iXML
Sample Rates
WAV:
44.1 / 47.952 / 48 / 48.048 / 88.2 / 96 / 192 kHz
MP3:
44.1 / 48 kHz
Bit Depth
16/24-Bit
Bit Rates
128 to 320 kb/s
Signal Processing
Limiter, Low-Cut Filter
Timecode
Yes
Frame Rates Supported
23.976 / 24 / 25 / 29.97 / 29.97 DF / 30 / 30 DF
Clock Accuracy
±0.2 ppm
Recording Time
WAV 48 kHz/24-Bit:
57.8 Mins per GB (Stereo)
WAV 192 kHz/24-Bit:
14.4 Mins per GB (Stereo)
Connectivity
Analog I/O
1 x Proprietary Mic Capsule Input
4 x Combo XLR-1/4″ Female Line/Mic Input (Lockable)
1 x 1/8″ / 3.5 mm TRS Female Unbalanced Line Input
2 x XLR 3-Pin Male Balanced Line Output
1 x 1/8″ / 3.5 mm TRS Female Unbalanced Aux Output
1 x 1/4″ TRS Female Unbalanced Headphone Output
Digital I/O
1 x BNC Timecode Input
1 x BNC Timecode Output
Phantom Power
+24 / 48 V (Selectable on Individual Inputs)
Phantom Power Current
≤10 mA per Channel
Host Connection
1 x Mini-USB (USB 2.0)
Performance
Frequency Response
10 Hz to 80 kHz +0.5/-1 dB (At 192 kHz)
Gain Range
Mic Inputs:
+10 to +75 dB
Line Inputs:
-10 to +55 dB
1/8″ Inputs:
-10 dBV / +4 dBu
Max Input Level
Mic Inputs:
+14 dBu (Limiter On, at 0 dBFS)
Line Inputs:
+24 dBu (Limiter On, at 0 dBFS)
1/8″ Inputs:
+24 dBu
Max Output Level
Line Outputs:
+10 dBV
Headphone Output Power
100 mW per Channel into 32 Ohms
Dynamic Range
A/D Converters:
120 dBA
D/A Converters:
106 dBA
Impedance
BNC Inputs:
≥4.3 kOhms
BNC Outputs:
≤50 Ohms
Mic Inputs:
≥3 kOhms
Line Inputs:
≥22 kOhms
Aux Inputs:
≥10 kOhms
Line Outputs:
≤150 Ohms
Aux Outputs:
≤1 kOhms
Headphone Outputs:
≤15 Ohms
EIN
≤-127 dBu (A-Weighted)
Power
Power Options
Batteries or AC/DC Power Adapter
Battery Type
8 x AA (Not Included)
Approximate Battery Life
48 kHz/16-Bit:
9.5 Hours (Alkaline, 2 Channels, without Headphones)
11.5 Hours (NiMH, 2 Channels, without Headphones)
17.5 Hours (Lithium, 2 Channels, without Headphones)
48 kHz/24-Bit:
9 Hours (Alkaline, All Channels, with Headphones)
10.5 Hours (NiMH, All Channels, with Headphones)
16.5 Hours (Lithium, All Channels, with Headphones)
192 kHz/24-Bit:
2 Hours (Alkaline, All Channels, Backlit Display, Phantom On)
3.5 Hours (NiMH, All Channels, Backlit Display, Phantom On)
6 Hours (Lithium, All Channels, Backlit Display, Phantom On)
AC/DC Power Adapter
12 VDC at 2 A (Included)
Physical
| | |
| --- | --- |
| Mounting Options | 1/4″-20 Female |
| Dimensions | 7.0 x 5.5 x 2.1″ / 177.8 x 139.7 x 53.3 mm |
| Weight | 2.3 lb / 1.0 kg |
Packaging Info
| | |
| --- | --- |
| Package Weight | 4.865 lb |
| Box Dimensions (LxWxH) | 11.7 x 10.4 x 4.9″ |