รายละเอียดเพิ่มเติม...
Specifications
Bypass mode
True Bypass
Input connectors
2 x ¼" TS, unbalanced
Input impedance
1 MΩ
Output connectors
2 x ¼" TS, unbalanced
MIDI in / thru
2 x 5-pin DIN
Power input

Standard 5.5 / 2.1 mm 9 VDC, centre negative
> 600 mA (included)

Controls
EFFECT knob, TONEPRINT knob, parameter knobs (assignable), effect slot / MASH footswitches (assignable), PLAY / EDIT selector switch, BOARDS selector switch
Latency
0.8 – 2.4 ms
USB port
Mini-B USB connector
Bluetooth

Version Version: 4.2 Low Energy
Operating frequency: 2.402 to 2.48 GHz
Channel Number: 40
RF output power: 8 dBm
Working distance: Up to 10 m measured in open space (wall and structures may affect range of device)

Dimensions (H x W x D)
56.02 x 176.53 x 116.75 mm (2.2 x 7.0 x 4.6″)
Weight
0.775 kg (1.71 lbs)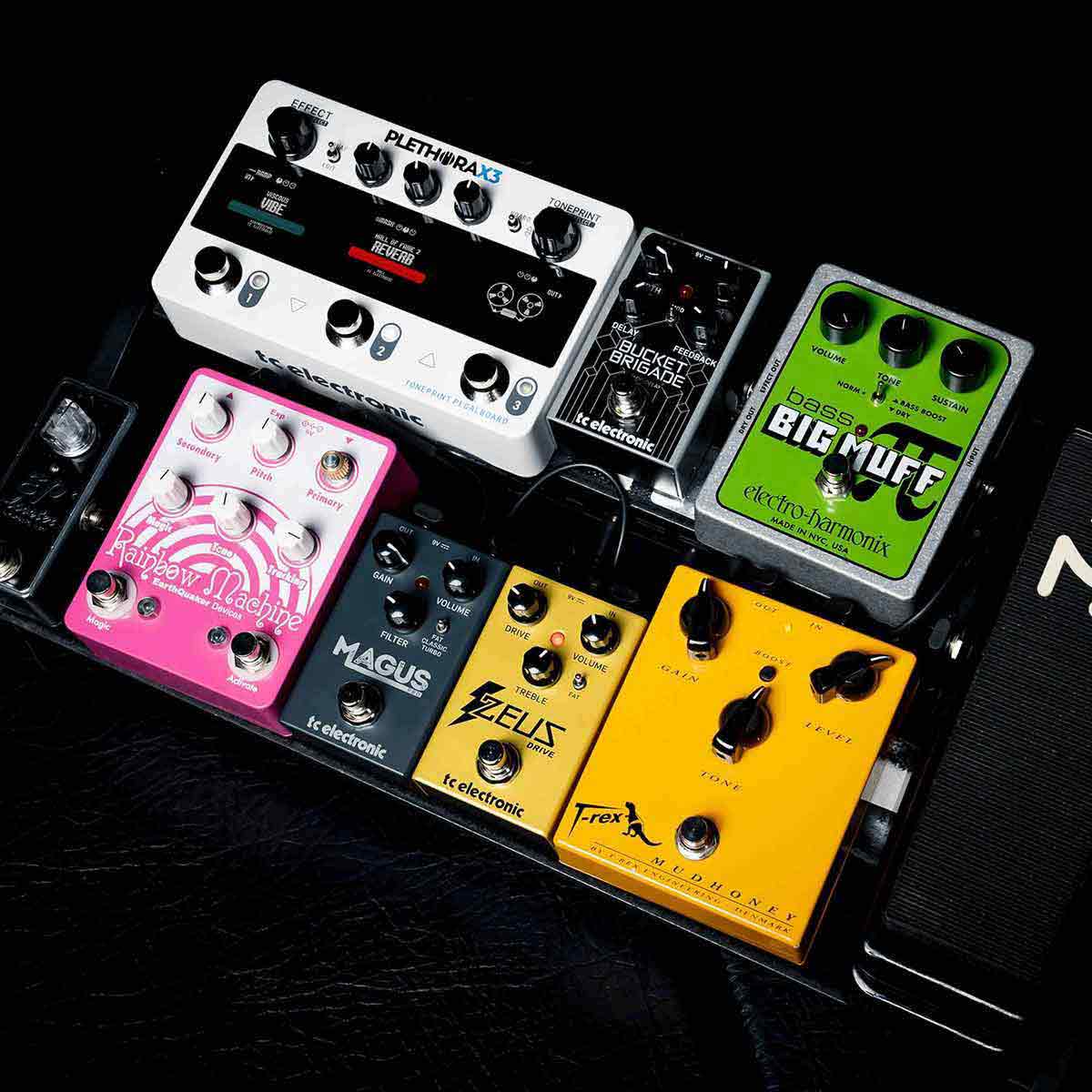 No Compromise Space Saving
PLETHORA X3 is your flexible collection of up to 127 mini boards within your pedalboard – just like the original PLETHORA X5. In comparison, the only hint of a compromise is 3 slots instead of 5, but you may well find that beneficial, as it takes up less precious real estate on your pedalboard! Rest assured that the sound quality and flexibility is every bit as hard rocking as PLETHORA X5.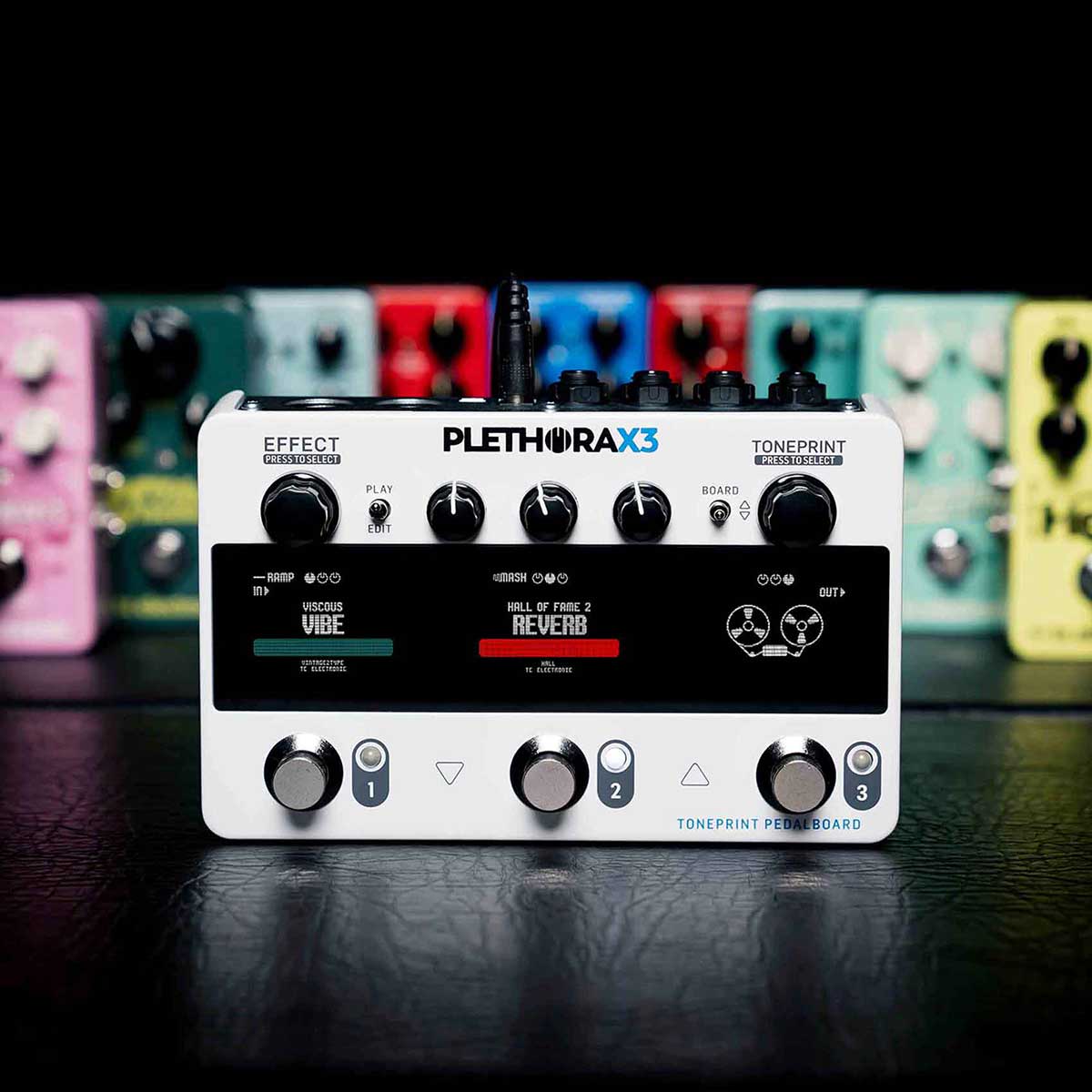 Mix. Match. MASH!
Load any one of your favorite TC Electronic TonePrint effects in any one of the 3 pedal slots. Then add up to 75 custom, swift-recall TonePrints to each effect and you're good to go. Once you have buckled up and got your fingers flying, step up and MASH the footswitches for mind-bending expressiveness. Each footswitch acts as an expression controller with customizable mapping. Tailor each effect and MASH-functionality to catch your drift and fit your playing style perfectly!
Effects include: HELIX PHASER, VISCOUS VIBE, TAPE DECK LOOPER, HALL OF FAME 2 REVERB, FLASHBACK 2 DELAY, SUB N UP OCTAVER, BRAINWAVES PITCH SHIFTER, CORONA CHORUS, HYPERGRAVITY COMPRESSOR, MIMIQ DOUBLER, VORTEX FLANGER, PIPELINE TAP TREMOLO, QUINTESSENCE HARMONY, SENTRY NOISE GATE, SHAKER VIBRATO AND ALTER EGO VINTAGE ECHO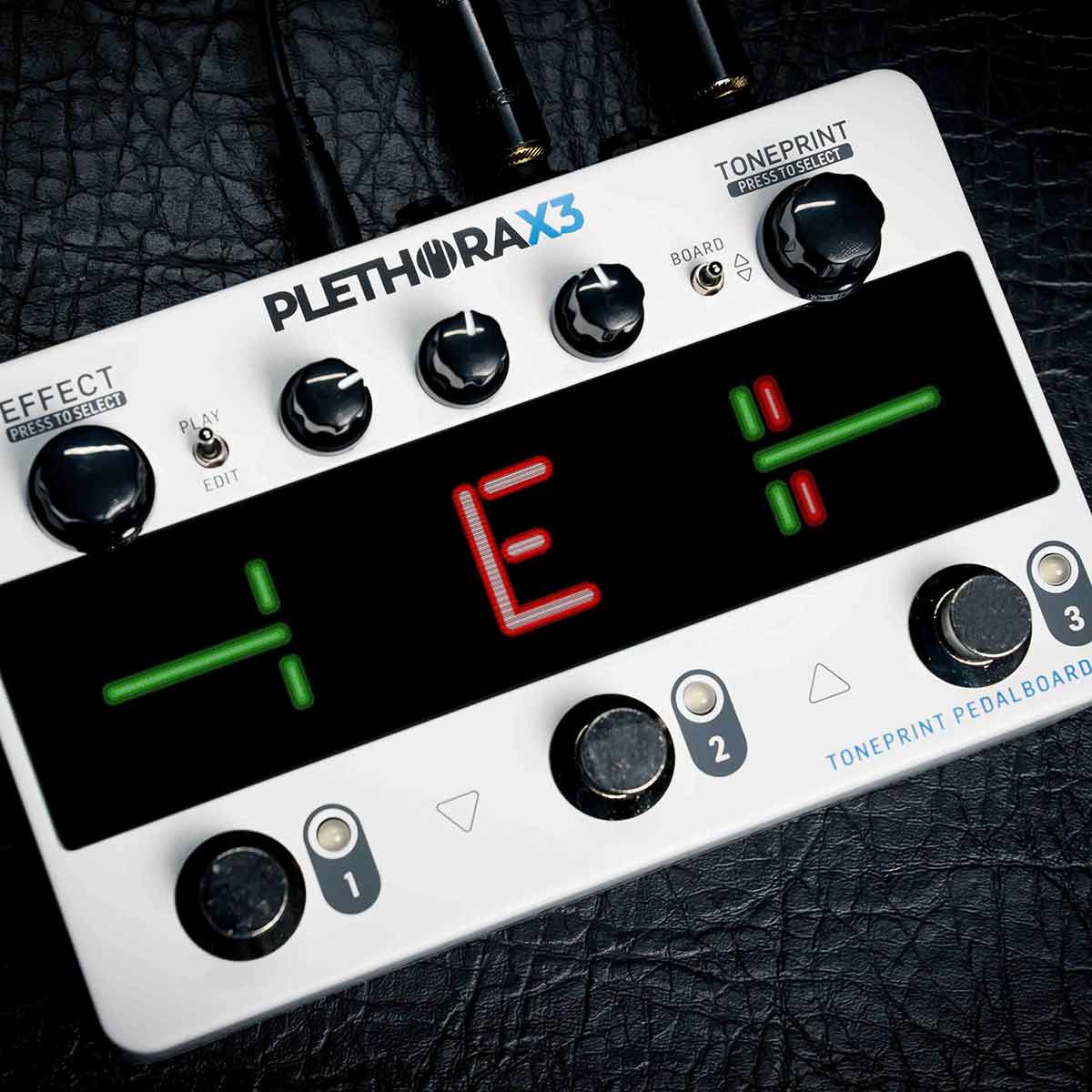 Global Goodies – UniTune and Cab Sim
To save even more space on your board, we integrated UniTune for easy access to an ultra-precise and responsive chromatic tuner. We also added the option to engage cab sim at the end of your signal chain if you record direct to an audio interface or gigs without an amp, going direct to a PA system.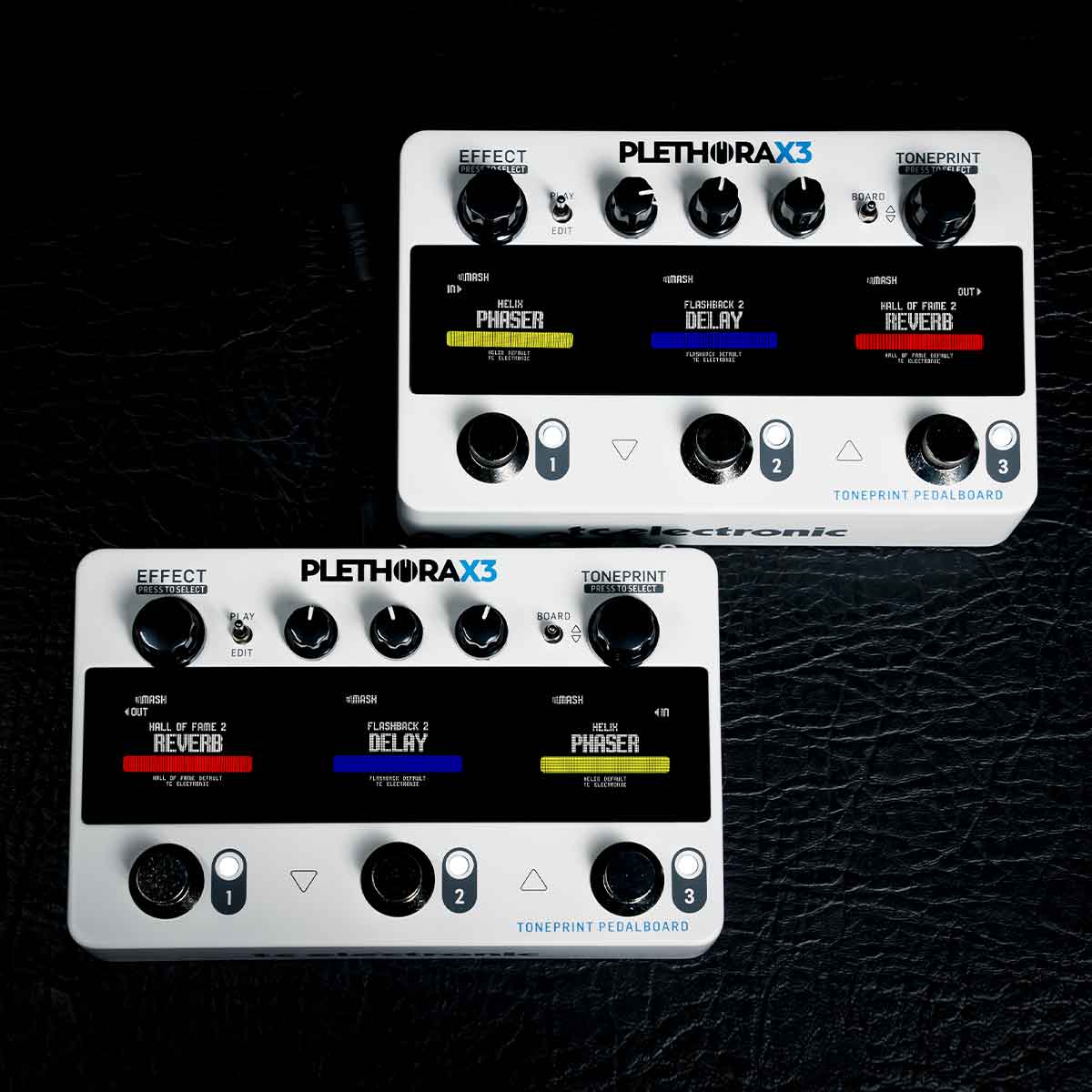 Following Your Flow
Regardless of whether you prefer your signal to flow from left to right or vice versa, PLETHORA X3 can be set up to fit your logic. It may not be the most mind-blowing feature PLETHORA has under the hood, but it fits perfectly into our guitar philosophy of never standing in the way of your creativity, and it will make a real practical difference if the rest of your pedal board's signal flows in a certain direction.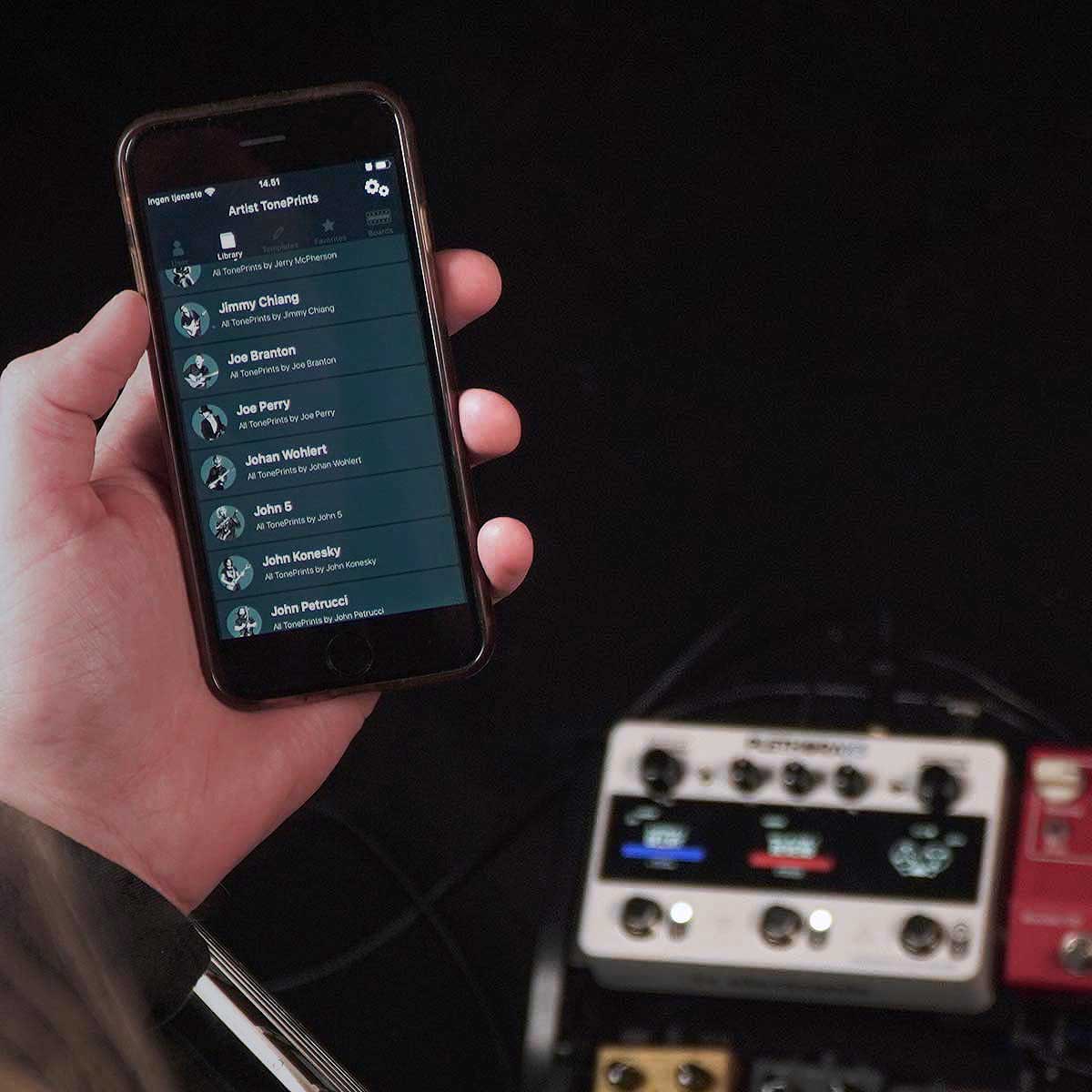 Connect. Upload. Go!
Connect the free TonePrint App to PLETHORA X3 via Bluetooth to effortlessly import scorching sounds from our ever-growing TonePrint library. In other words, today PLETHORA X3 will drop your jaw onto your lap – tomorrow it will hit the floor. The keyword here is "future-proof!" Speaking of, we'll keep your PLETHORA X3 cutting edge with regular firmware updates, including new boards, TonePrints, and more…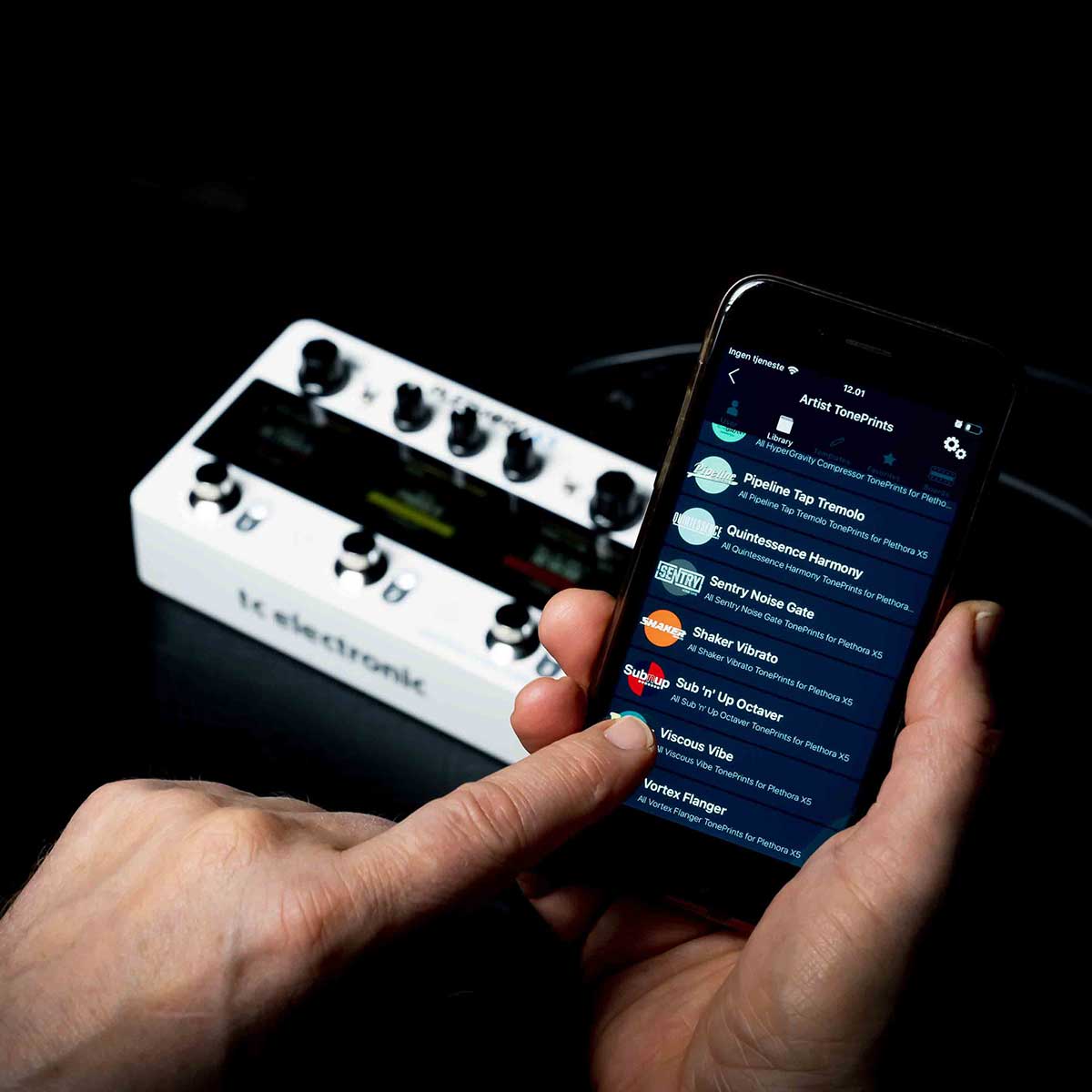 Editing Extravaganza
You may prefer to simply use the TonePrints as they were meticulously designed by masterful players, but if you feel like adjusting them or even tweaking your own custom TonePrints, we welcome you to go nuts in the TonePrint Editor where you gain access to a, well, plethora of effect parameters and creative possibilities!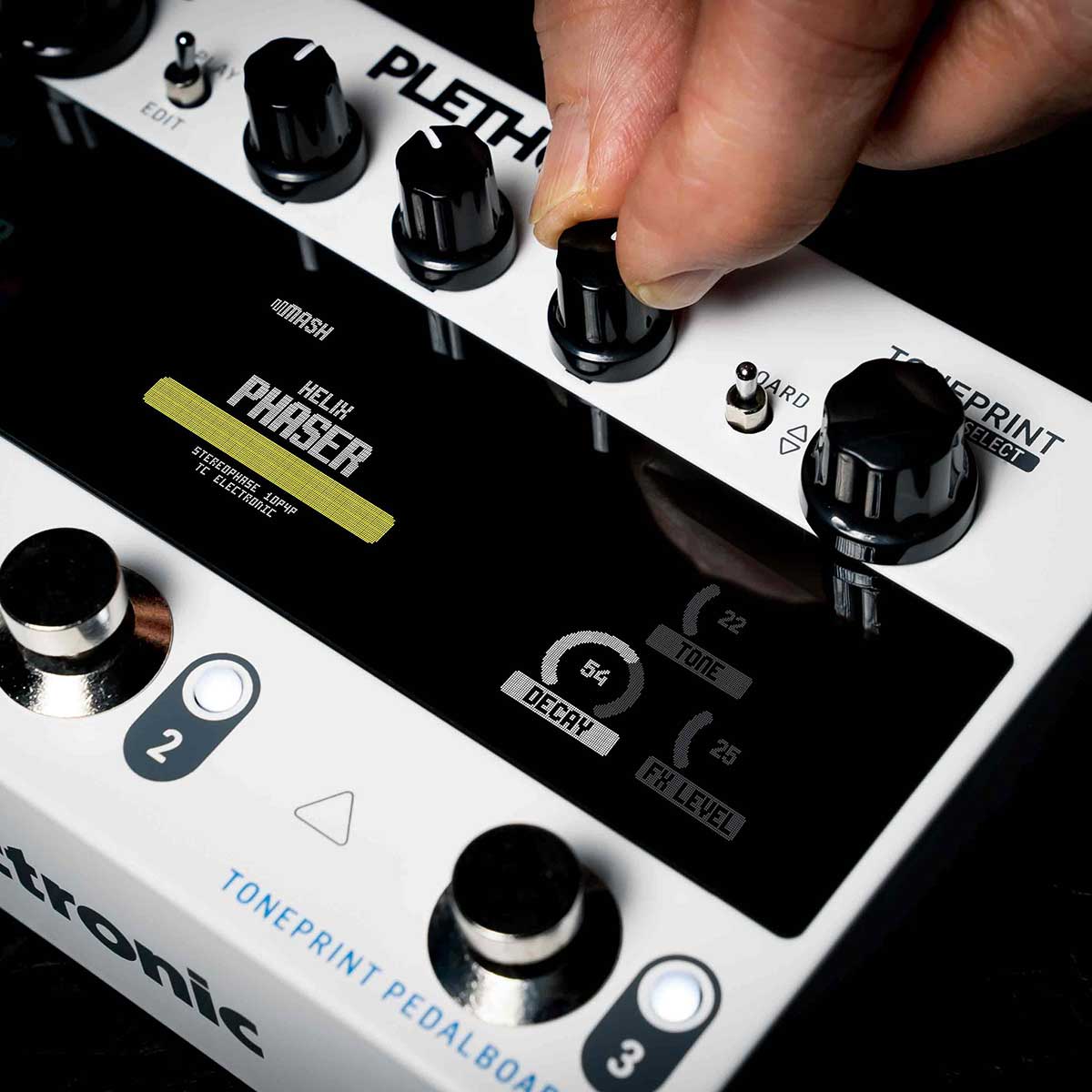 Cool and Hot Ways to Take Control
When you have designed your PLETHORA X3 boards, you want easy and intuitive control. Once your drummer counts you in, the time for deep editing has passed and on-the-fly control is all that matters. Each pedal on PLETHORA X3 can be adjusted fast via three simple knobs – or you can assign specific effect parameters to each of them, transforming them into Hot Knobs.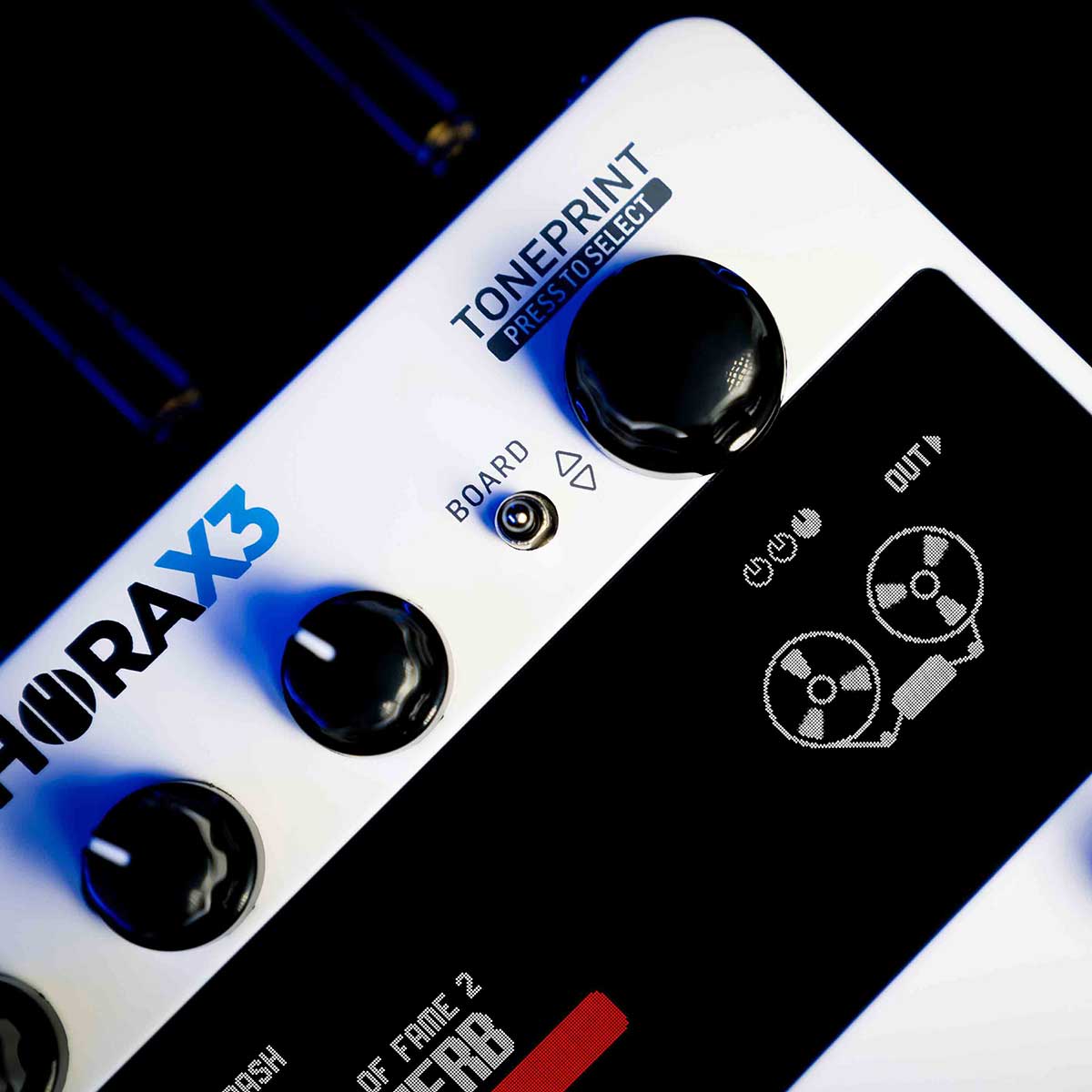 Loop. Swap. Play!
A Tape Deck Looper is built right into PLETHORA X3 for quick, simple and intuitive looping on the fly and what's also fast is the Quick Swap feature that lets you reorder your signal chain easily between songs – or even mid-song if necessary.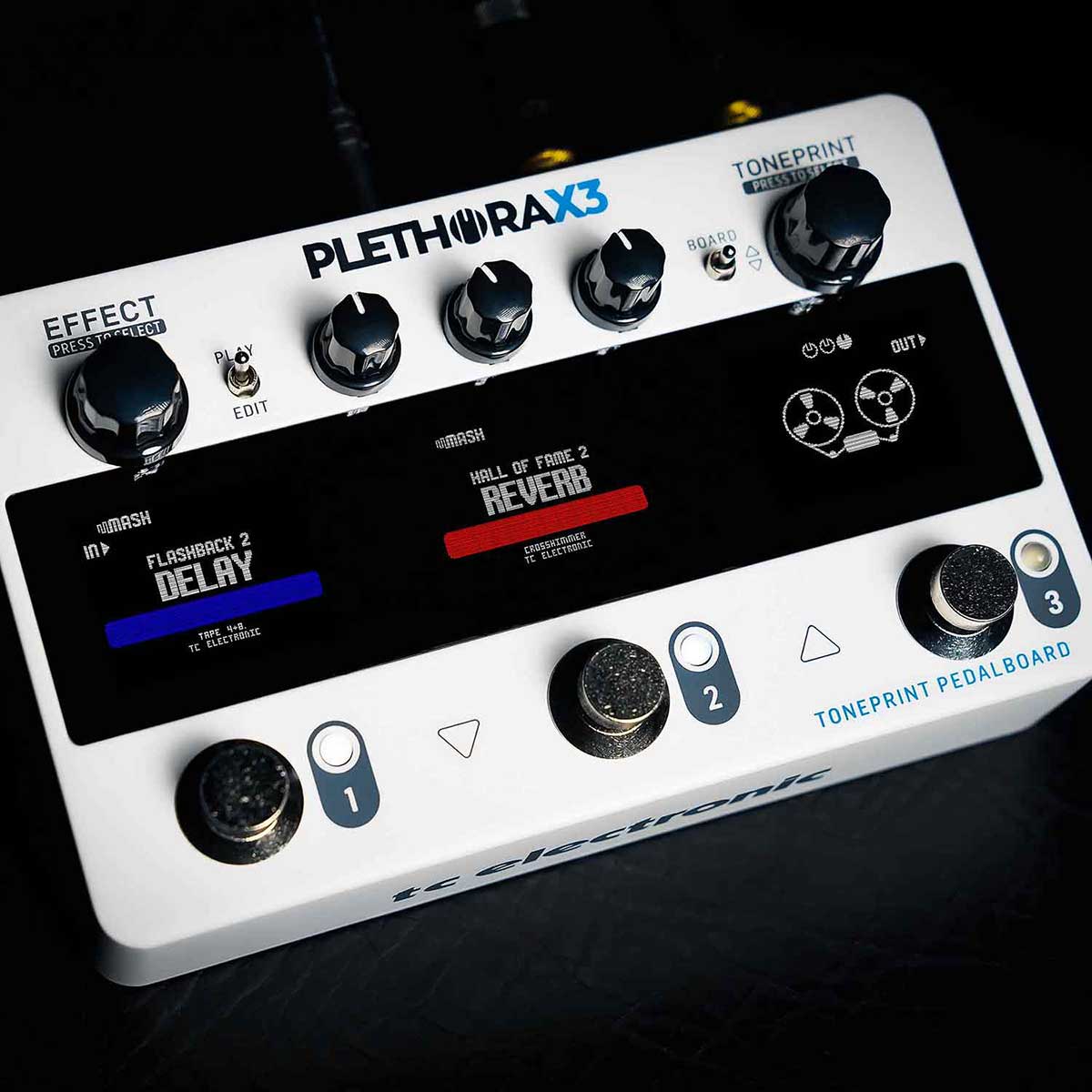 Set it. We Won't Forget It.
PLETHORA X3 automatically saves your settings as you go. No need to constantly remind yourself to hit that "Save" button or fear losing your latest effect preset. We want to give you peace of mind, knowing that PLETHORA X3 has your back once the music starts playing!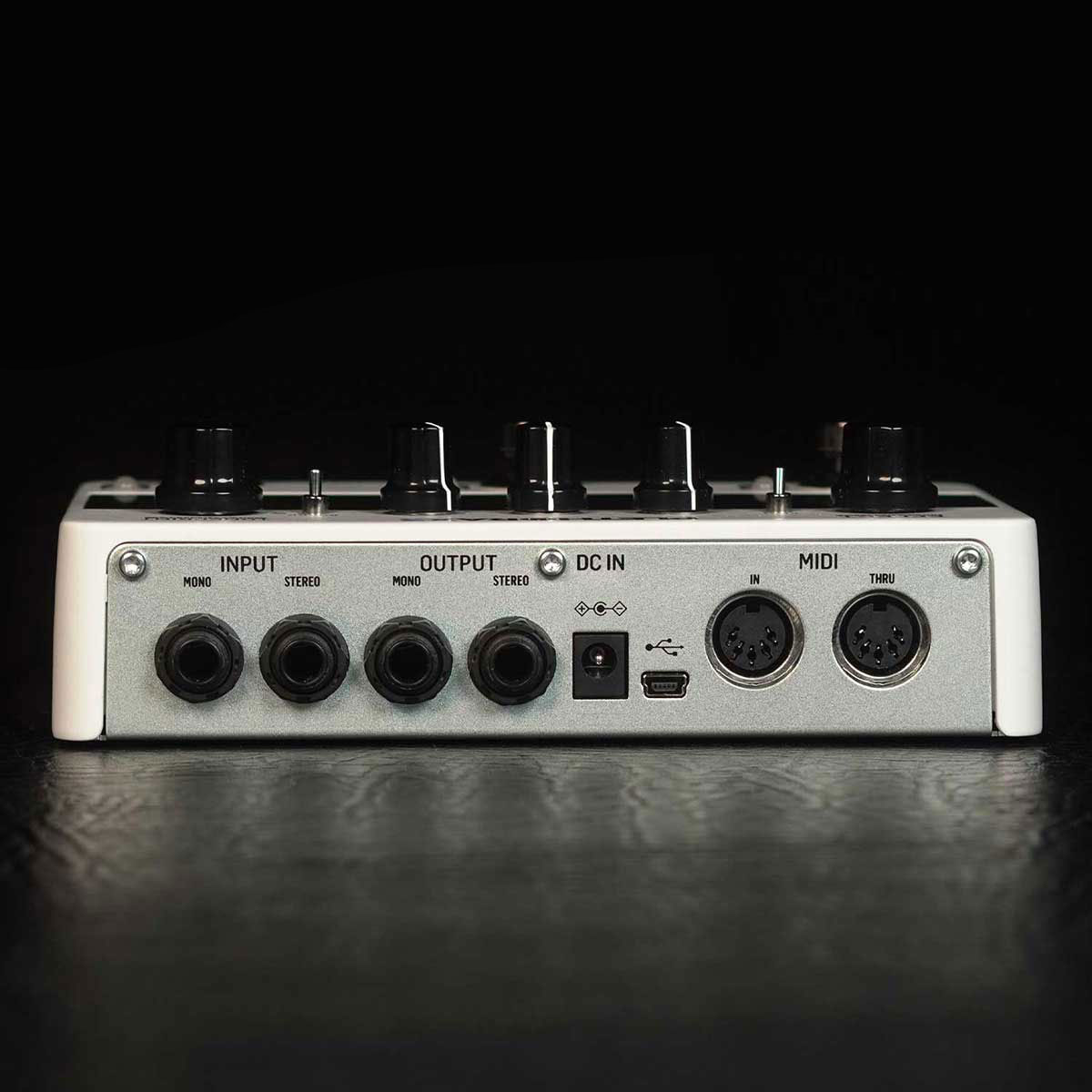 Superior Sound Meets Casual Control
On the rear panel, you'll find low-noise stereo connectivity with tons of headroom, as well as MIDI IN for selecting PLETHORA X3 boards from external control units.