รายละเอียดเพิ่มเติม...
Specs
Ins, Outs, and Switches
High impedance ultra low-noise discrete Class A JFET TRS stereo input
Low impedance TRS stereo output
Expression pedal input allows the connection of a TRS expression pedal, MiniSwitch, MultiSwitch Plus, or TRS MIDI connection
USB jack for controlling via MIDI from a computer or for performing firmware updates
Audio Quality
Premium JFET analog front end
Ultra low noise, high performance 24-bit 96kHz A/D and D/A converters provide uncompromising audio quality
520MHz ARM Superscalar processor
32-bit floating point processing
20Hz to 20kHz frequency response
Audio Input Impedance: 1M Ohm
Audio Output Impedance: 100 Ohm
Typical signal to noise ratio: 116dB
More
Strong and lightweight anodized aluminum chassis
Power requirements: maximum 9 volts DC center-negative, with a minimum of 250mA (power supply NOT included)
Dimensions:

4.6" deep x 2.7" wide x 2.5" tall
11.7 cm deep x 6.9 cm wide x 6.4 cm tall

Designed and built in the USA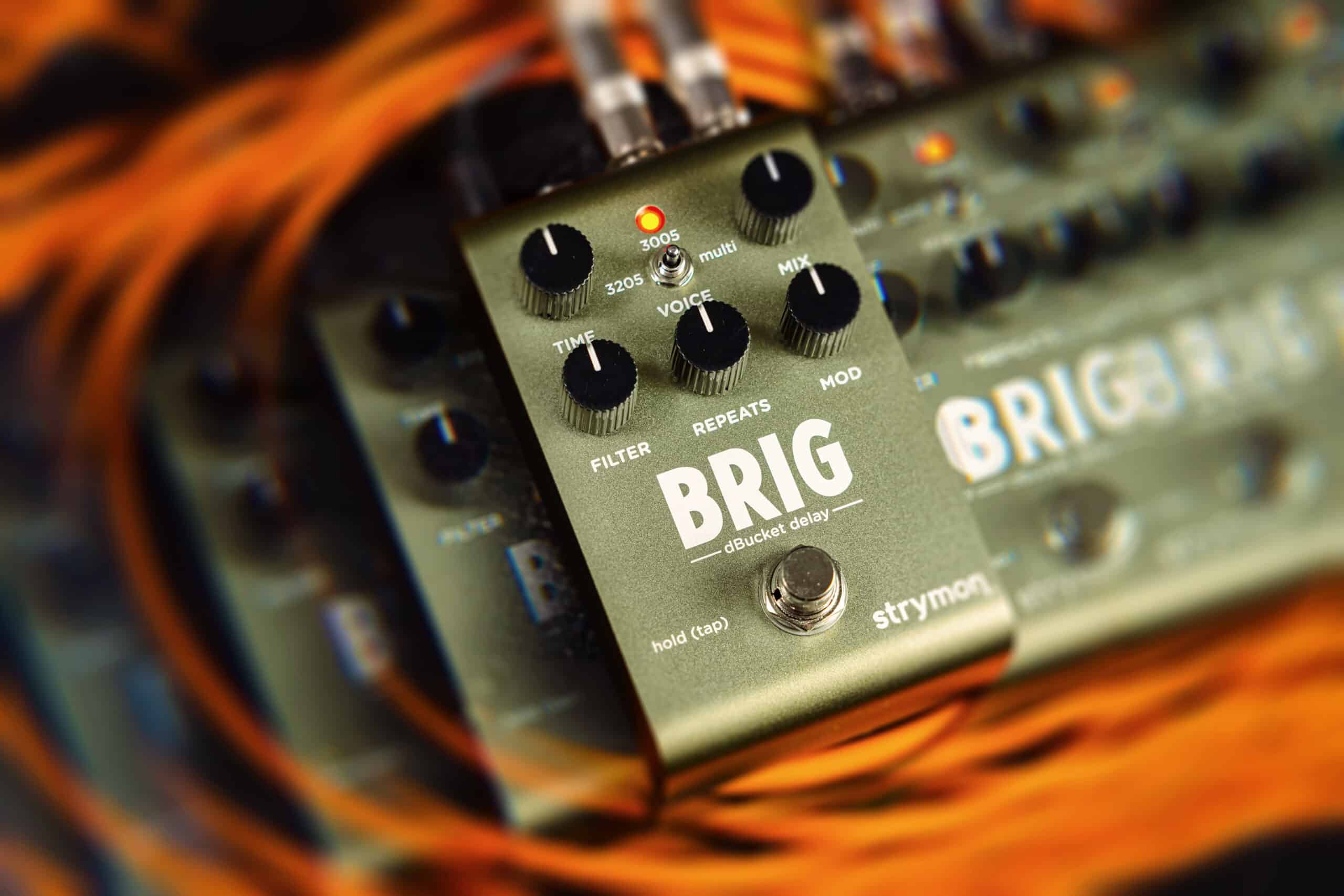 Brig's stunning dBucket sound generation gives you three different and meticulously crafted analog delay voicings.
The 3205 voice delivers gritty repeats that can morph as it feeds back, creating sounds ranging from gorgeous slapback echoes to psychedelic sci-fi effects.
The 3005 voice recreates a dual MN3005 BBD chip circuit running at 15V for longer delay times, higher headroom, and warm repeats with a soft, dreamlike quality.
The Multi voice features two cross-coupled, super-clean dBucket delay lines with golden ratio timing to create complex soundscapes and a huge stereo soundfield that remains musical and clean even while sitting on the edge of self-oscillation.
Brig is a triumph of compact design, offering a huge amount of power and flexibility in an elegantly small form factor: Three truly distinct delay voices. Artifact-free tap tempo. Stereo operation. Straightforward responsive controls and expression pedal capability. High-impedance, ultra-low noise discrete Class A JFET stereo input preamp for exceptional touch sensitivity, dynamics and feel. MIDI control for tempo, patch save/recall, and more. Premium components, rugged construction, and a USB jack for controlling the pedal via MIDI from a computer or for performing firmware updates.
Voices
Meticulously Made.
Brig's voices are crafted with an attention to detail that encompasses not only the characteristics of the BBD chips, but also the surrounding circuitry responsible for turning those early designs into the classics they are considered today.