รายละเอียดเพิ่มเติม...
SABINETEK Sabinecast Bluetooth Mixer
 Bluetooth Sound Card Mixing Console + condenser microphone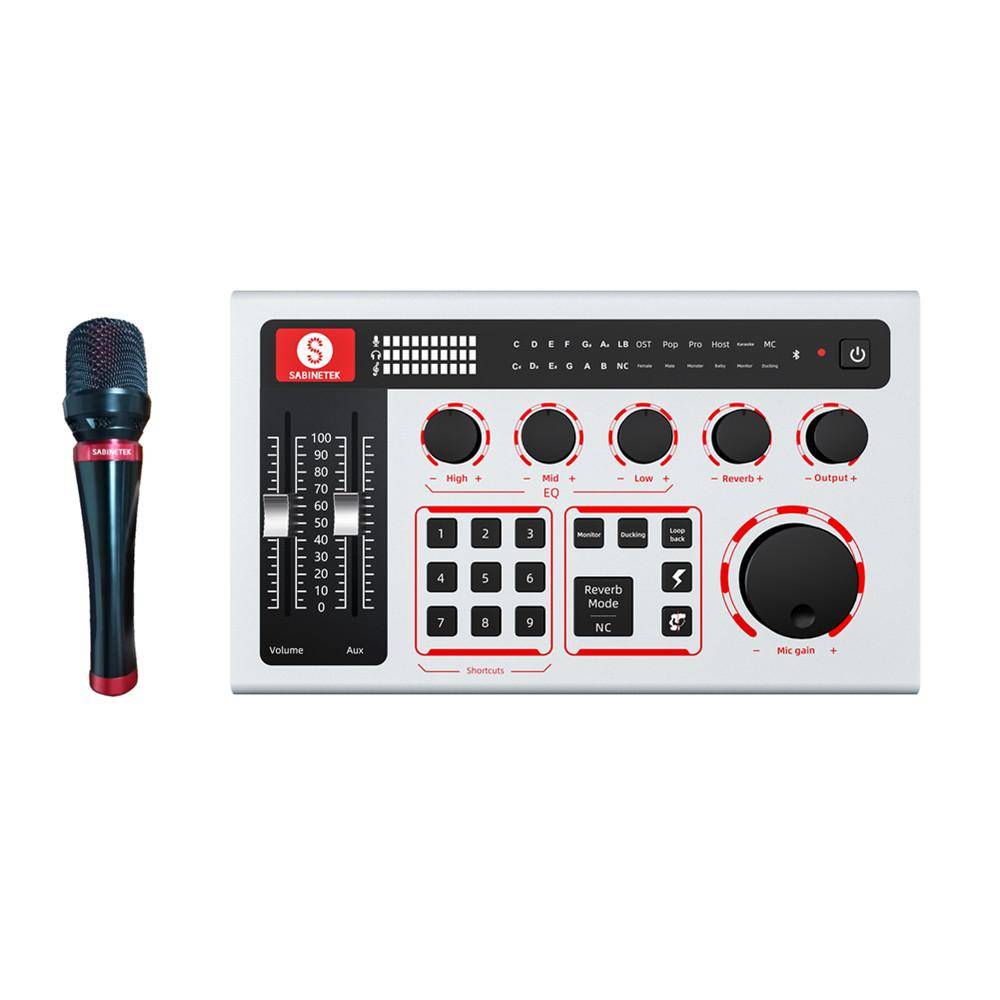 Professional Song Recording Modes For Studio-Grade Sound Cards
The sound is low, it's okay. We have professional treble debugging so that you can sing more beautifully
Make your voice clearer, debug at your own discretion, and make your K song easier
Low voice, more lyrical, let yourself sing more songs! The sound card is better and the tuning is better!
The effect of reverberation, if it is not added, the sound will be dry and very uncomfortable. Most of the music we hear now has reverberated. Unless you definitely want that kind of natural "hair sound" that is completely untreated, after adding reverb, it is easy to shape the sense of space, giving a real feeling, and the music will also sound more natural.
It's for Atmospheric sound effects. 1-5 are the default five fixed atmosphere sound effects and 6-9 users can record four custom atmosphere sound effects.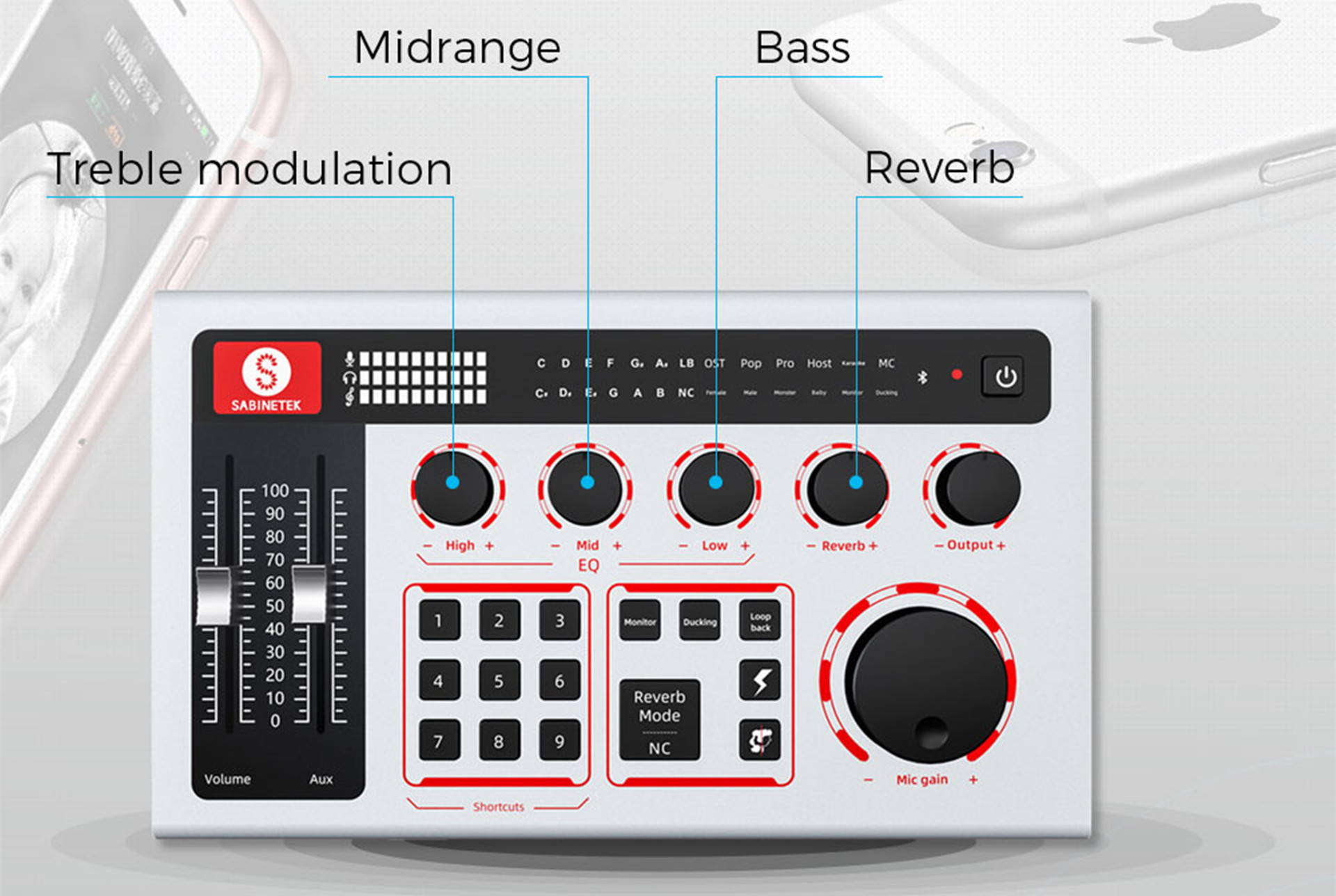 The mini sound card can be used for DJ, music studio recording, condenser microphone, karaoke online, podcast, mic, singing, k song, live stream, TikTok and YouTube streaming, guitar, Facebook, anchor, voice mixing, home audio recorder. Sound mixer board is also a voice changer for gamers who play games online.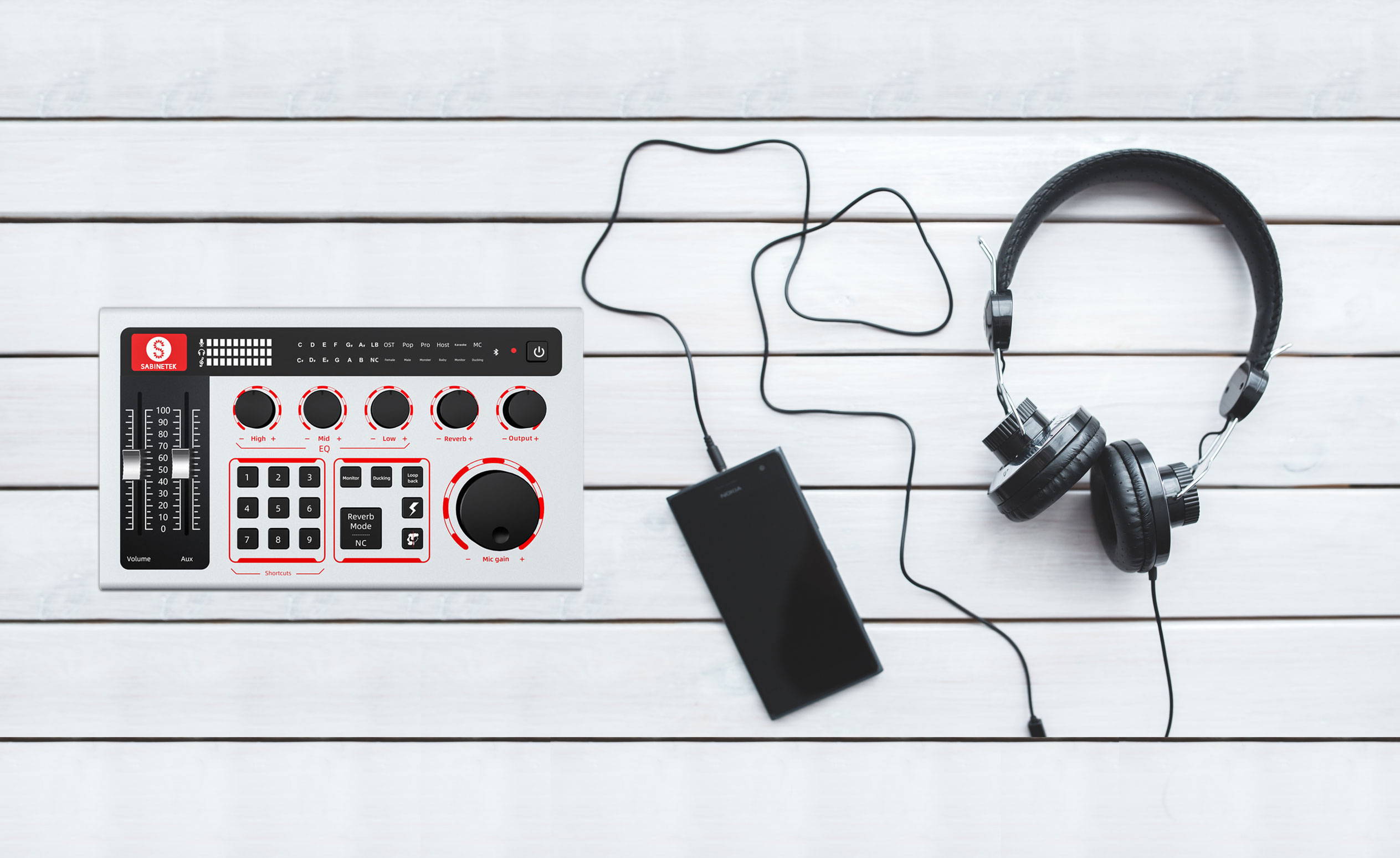 Voice Changing and Real-time Monitoring  
The live sound card voice changer automatically recognizes the human voice, automatically reduces the volume of the background music, the chat interaction is more interesting, and the real-time ear-back monitoring allows you to adjust the rhythm in time to sing entertainment or practice, avoiding the embarrassing experience.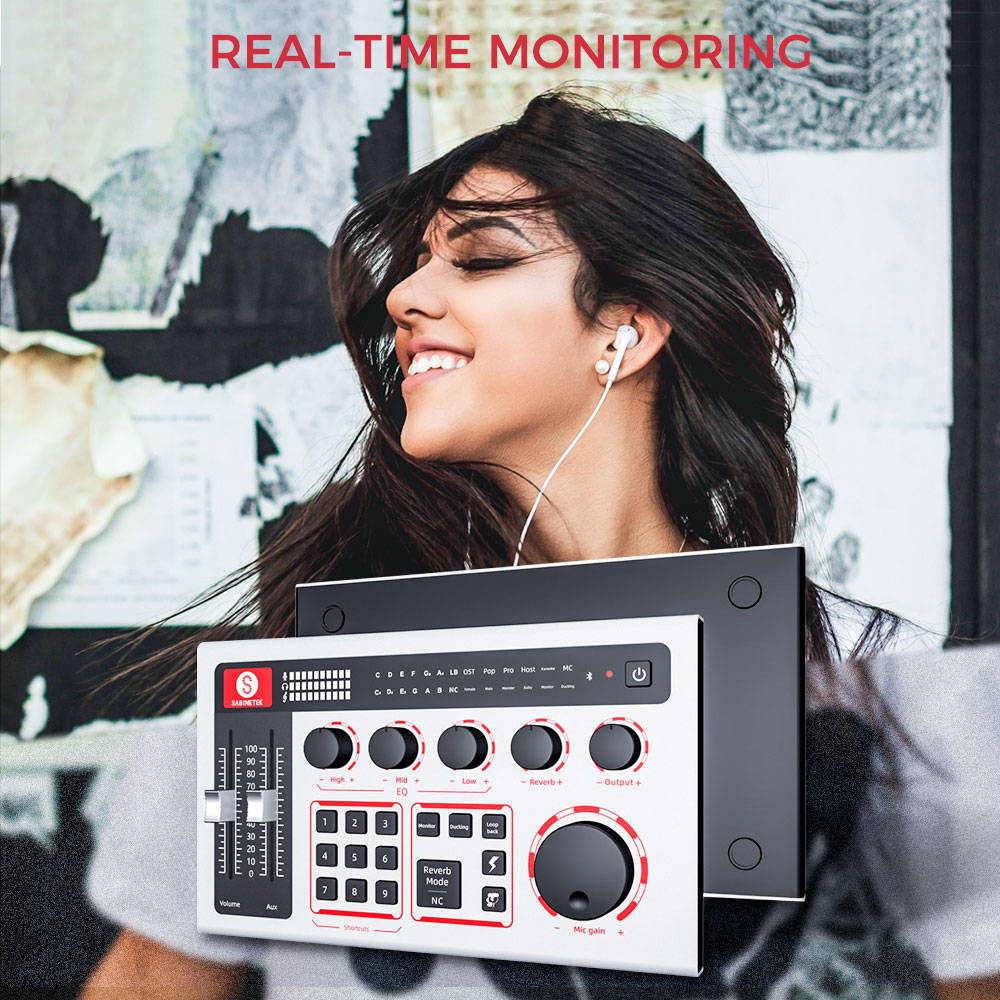 Bluetooth and DSP Intelligent Noise Reduction Chip 
The upgraded version live sound card voice changer supports Bluetooth wireless accompaniment, opens the phone Bluetooth, searches for "SabineCast " and connects. Adopt a dual DSP intelligent processing chip to adjust the rhythm in time, making the audio signal stable and clear, and the output is better.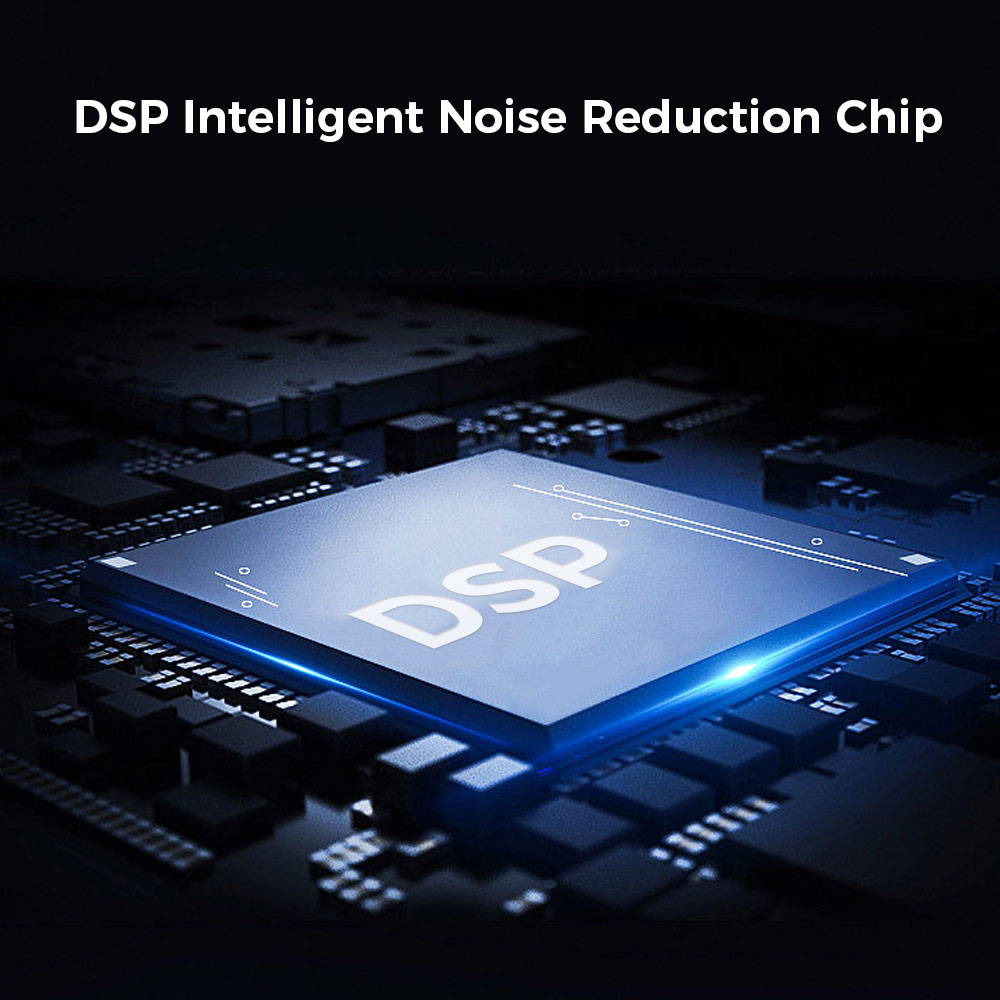 The sound card has a built-in 1800MAH lithium battery to avoid going out of K song with insufficient power. Battery life is up to 24 hours with full charging time.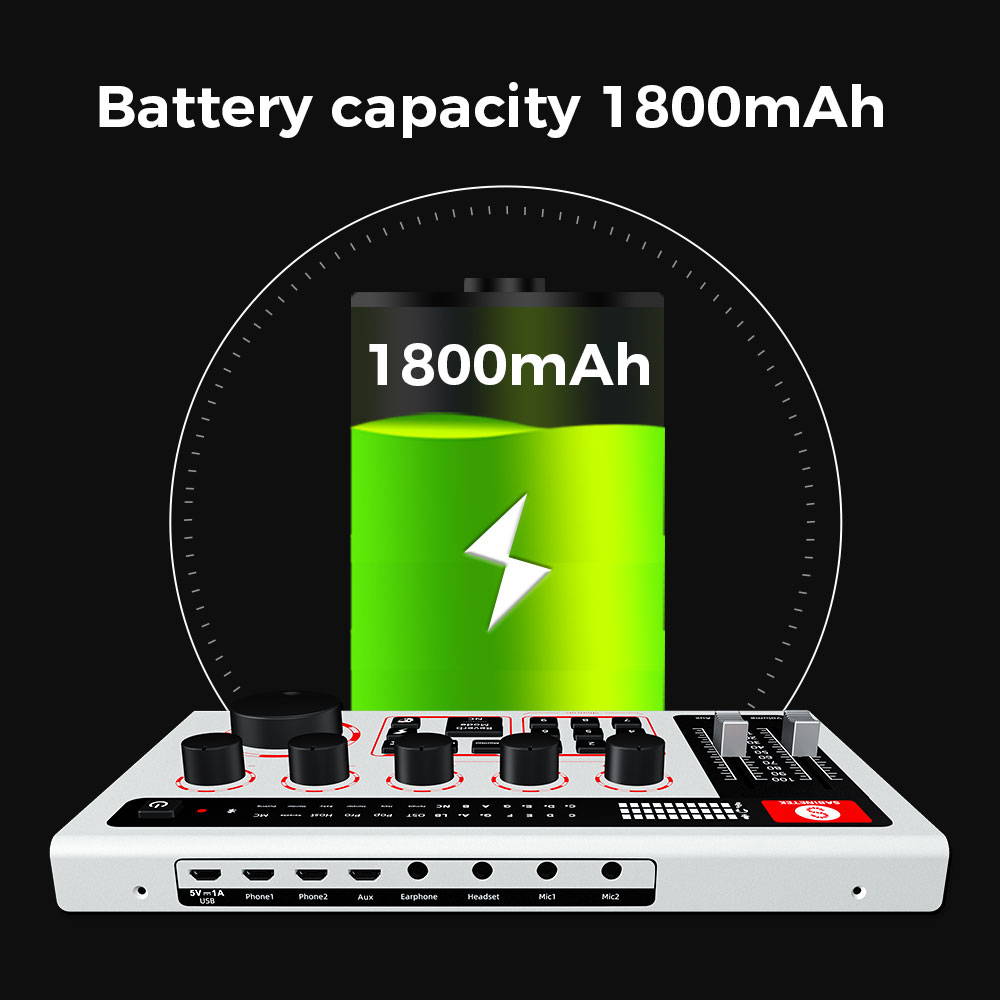 The Soundboard voice changer machine can be compatible with PC, Computer, iPad, Tablet, PS4, Xbox One, Xbox, Switch, IOS, Android phone, Windows, and electronic musical instrument. Perfect for broadcast, karaoke, studio music recording, and more.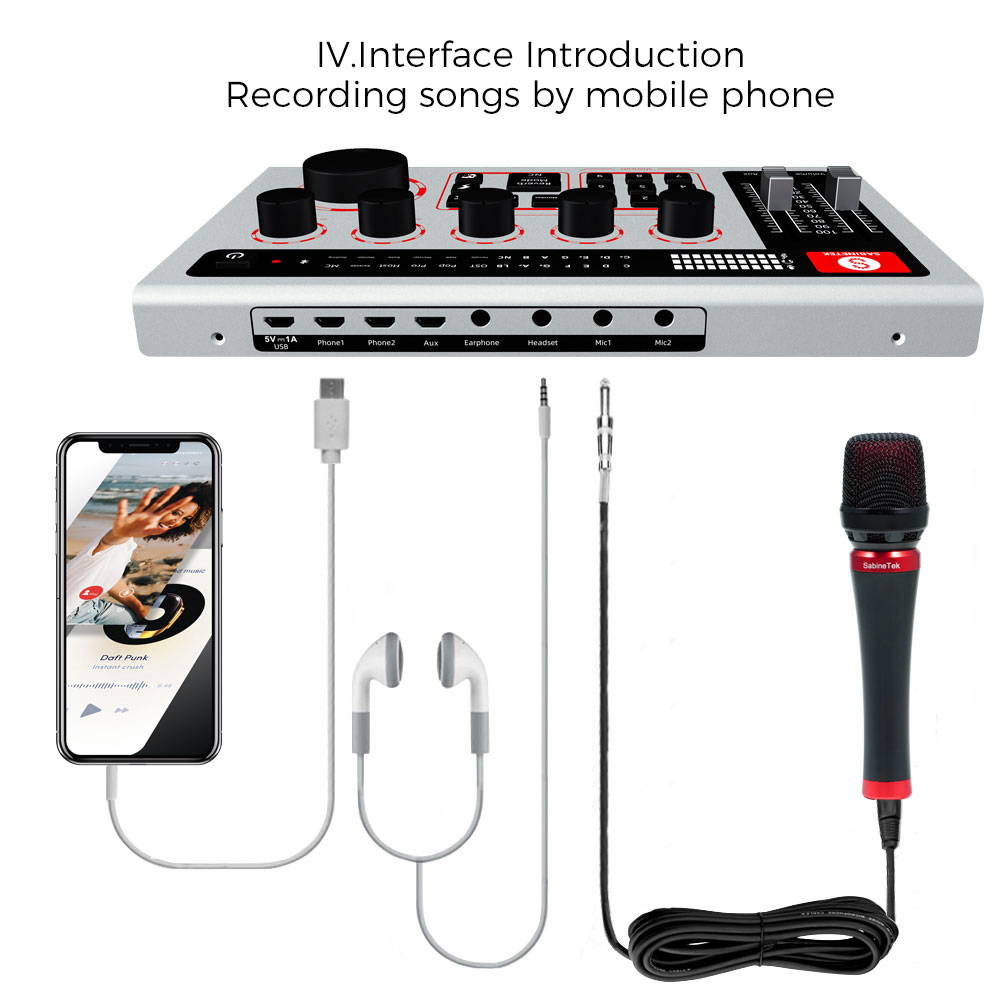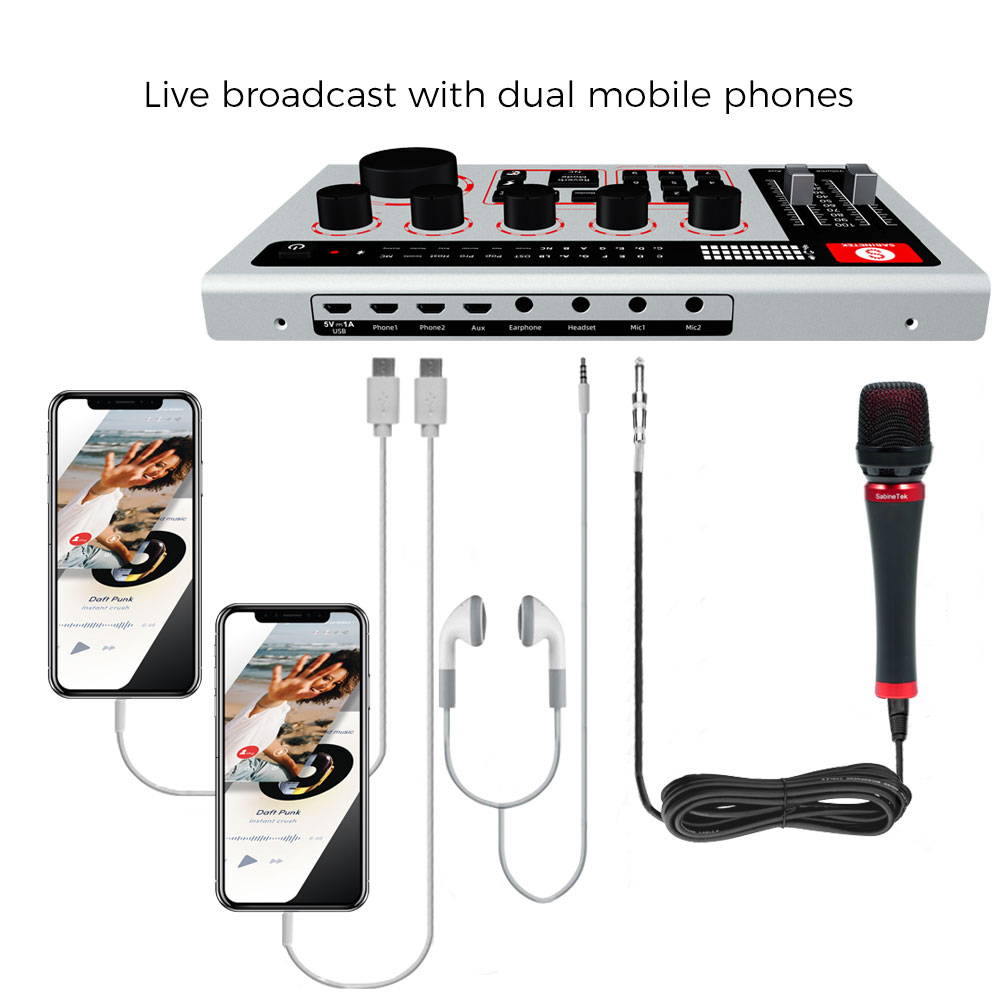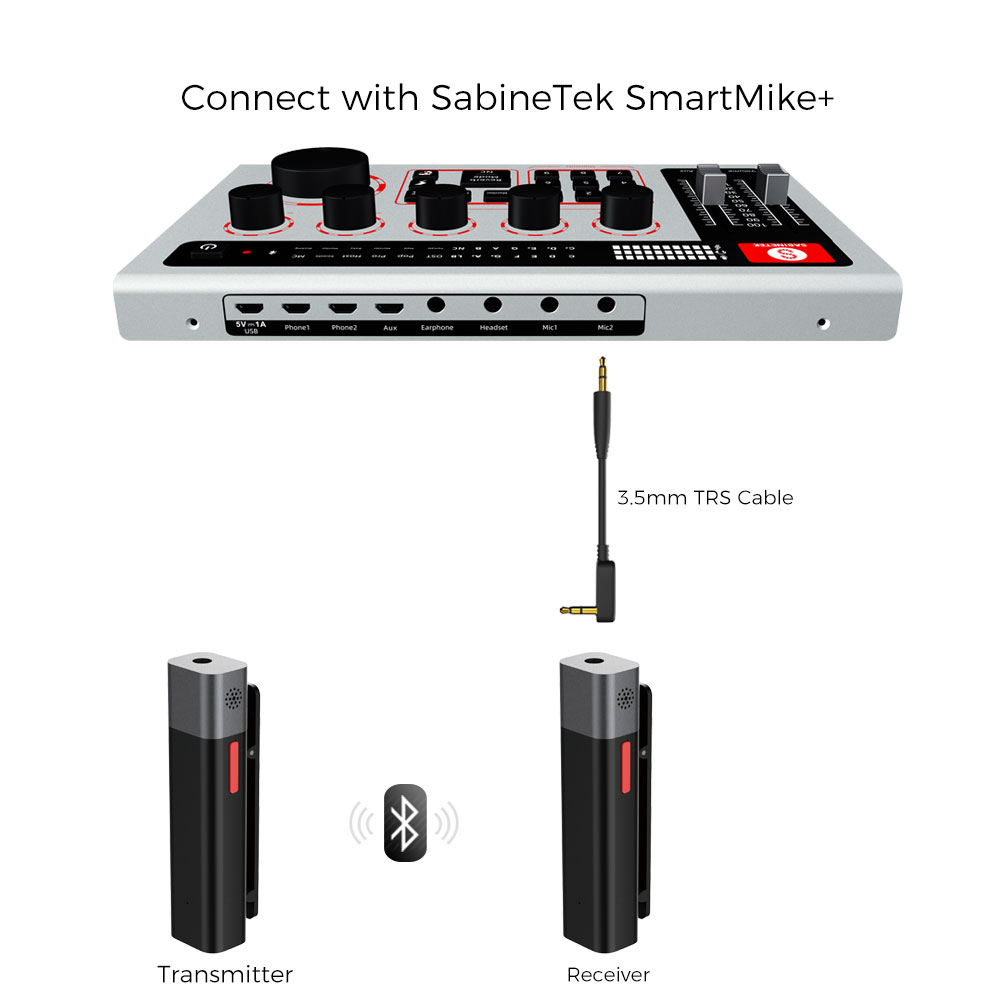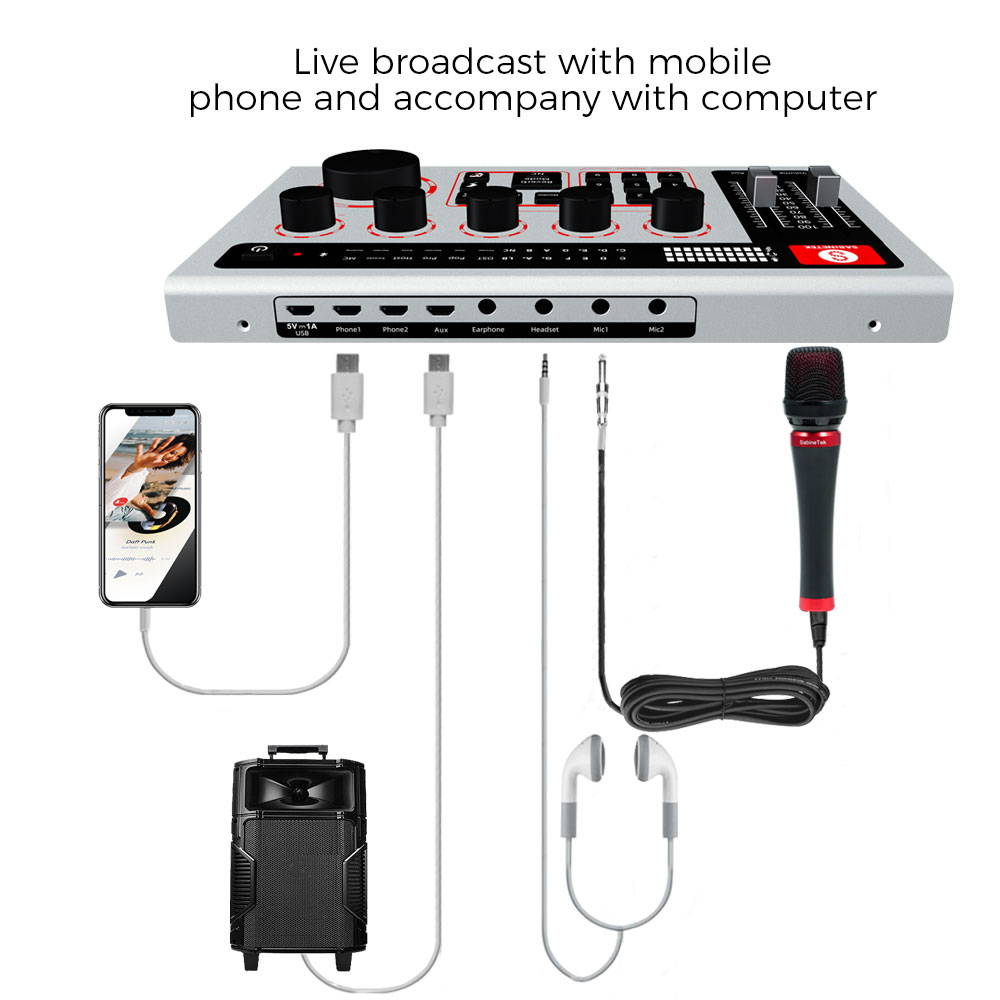 Suitable For A Variety Of Scenarios
1. For Singing/Karaoke
Adjustable echo reverberation with multi-levels, make your sound with high performance.
2. For Recording, Voice Chatting
Comes with live acoustic effects and background accompaniment introduction, shock-wave effect highlight the human voice when recording
3. For Live Broadcasting
One-key to make field noise, you can interact with fans without pressure. Compatible with most major mainstream K song software.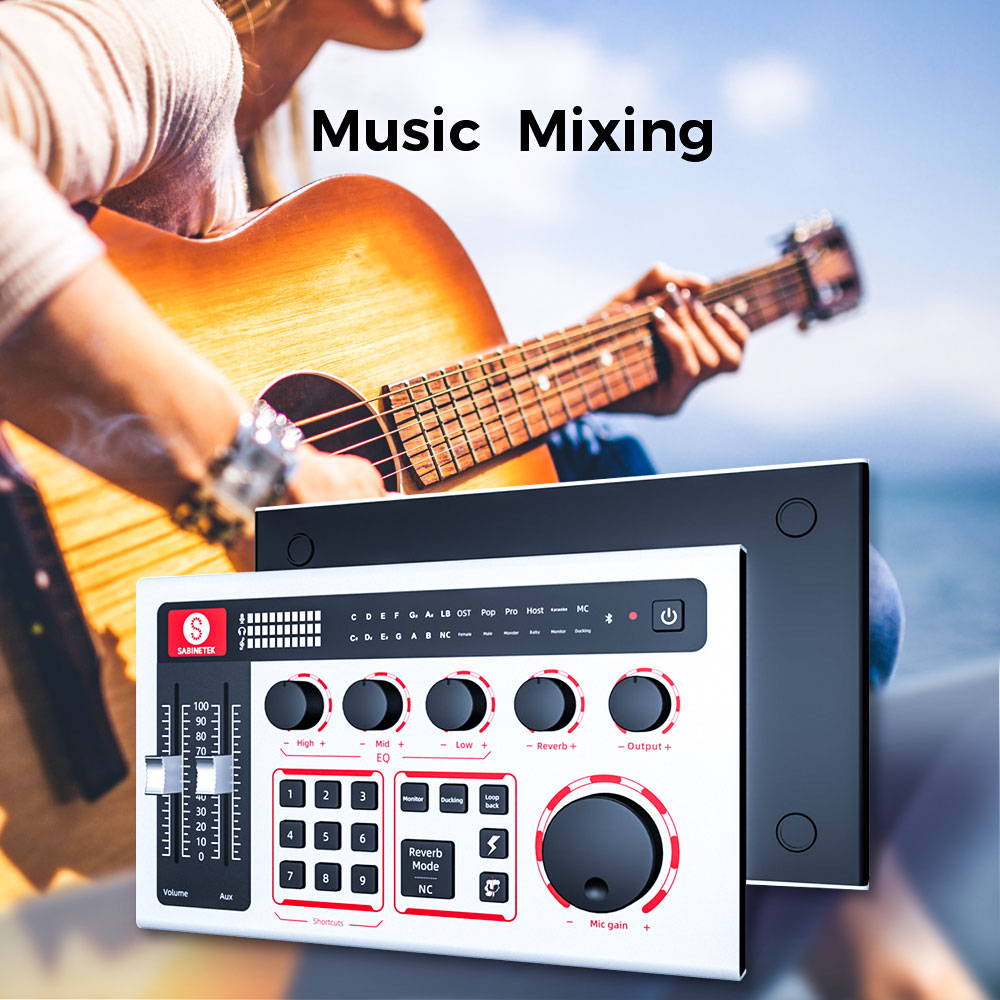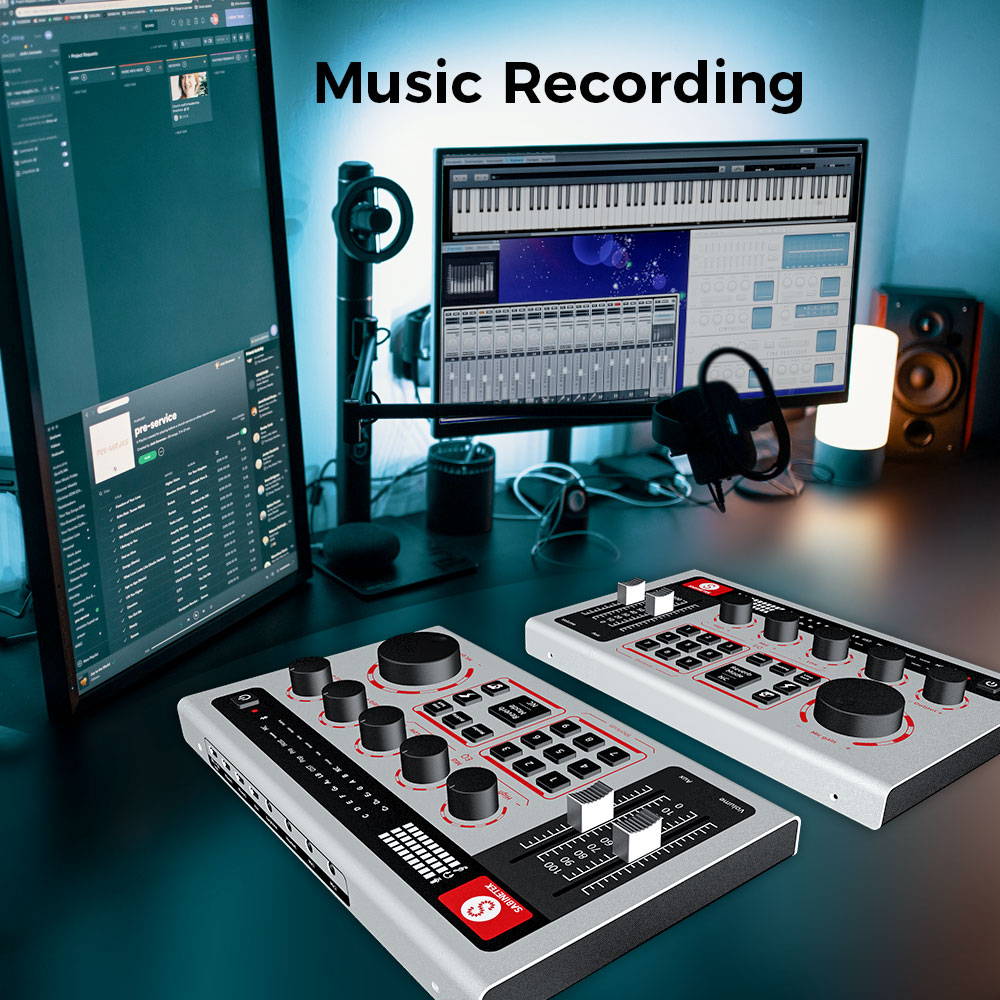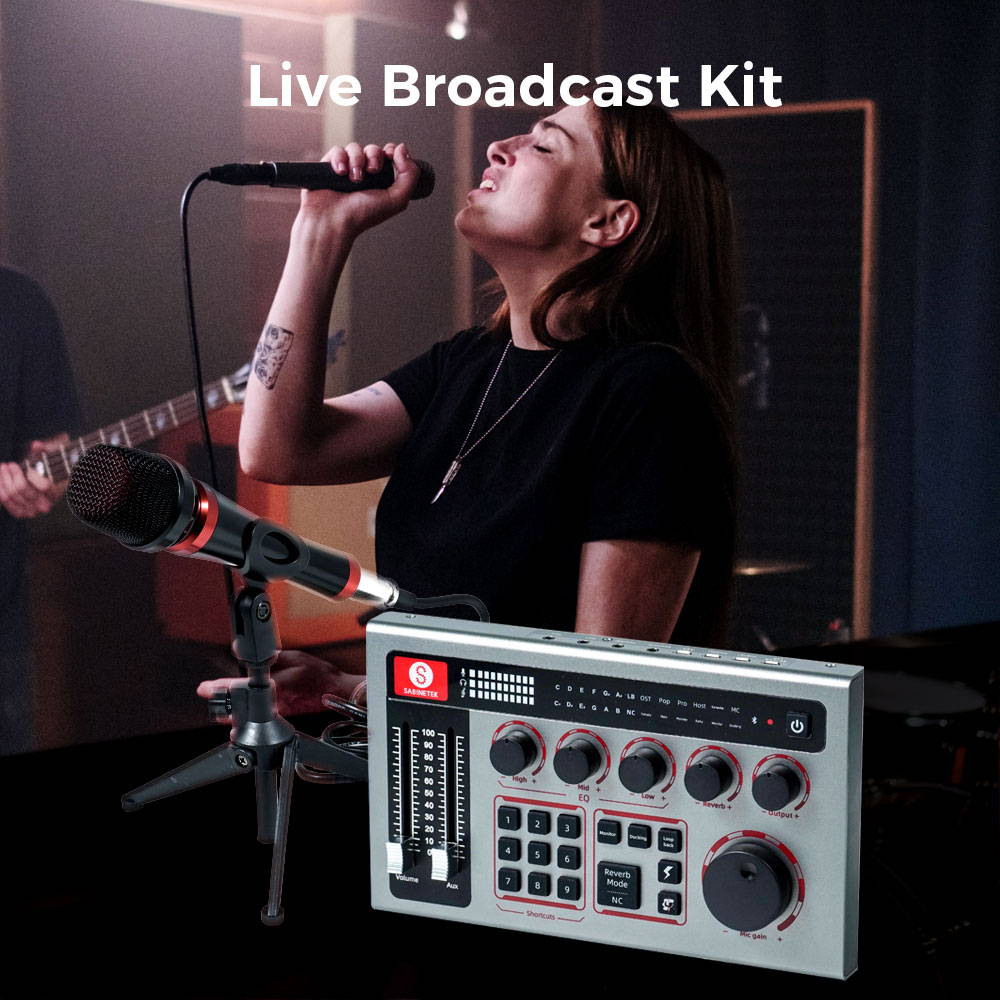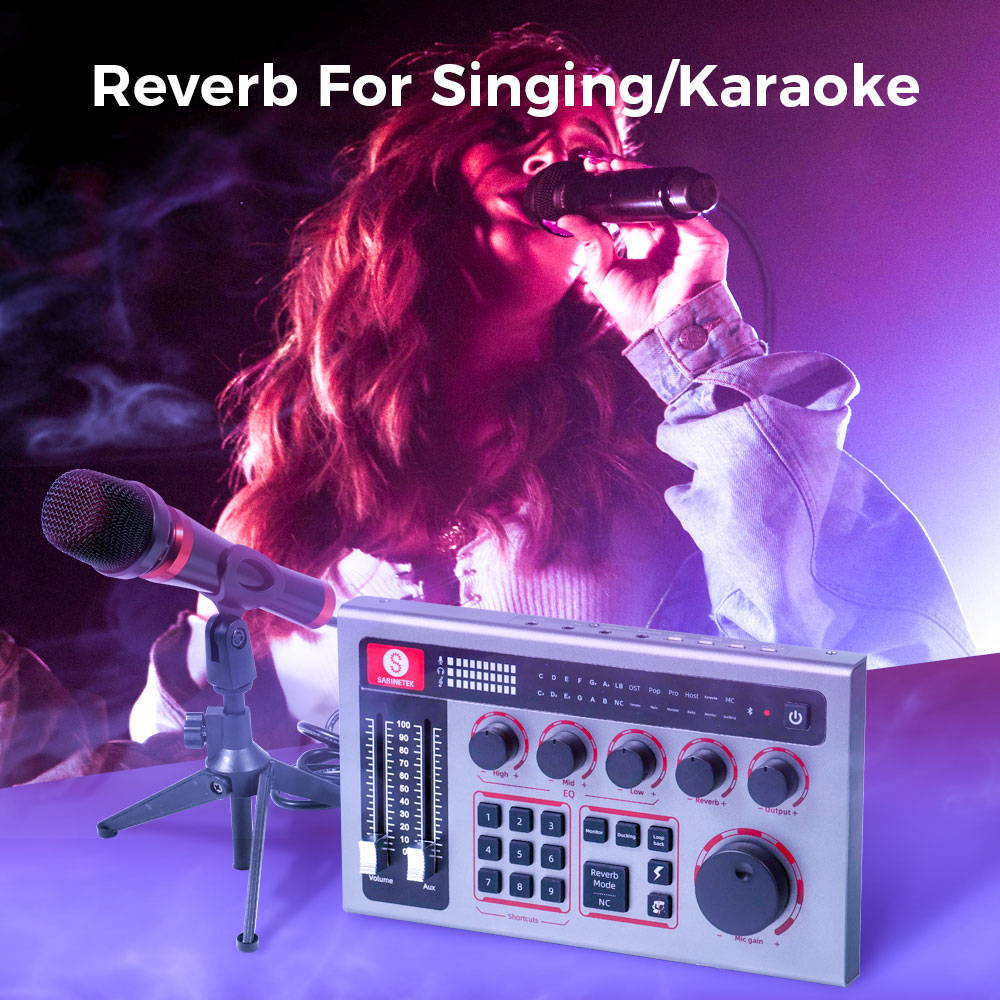 Professional Condenser Microphone For Broadcasting And Recording
This is a professional condenser microphone, which adopts the exacting complete electronic circuit control and gold-plate diaphragm capsule,
the microphone with a good cardioids polar pickup pattern , high output , low self-noise, and the accurate reproduction of even the most subtle sound, especially suitable for studios, recording studios, broadcasting stations, stage performances and computer.
Absolutely fulfill the requirement of high quality for broadcasting and recording.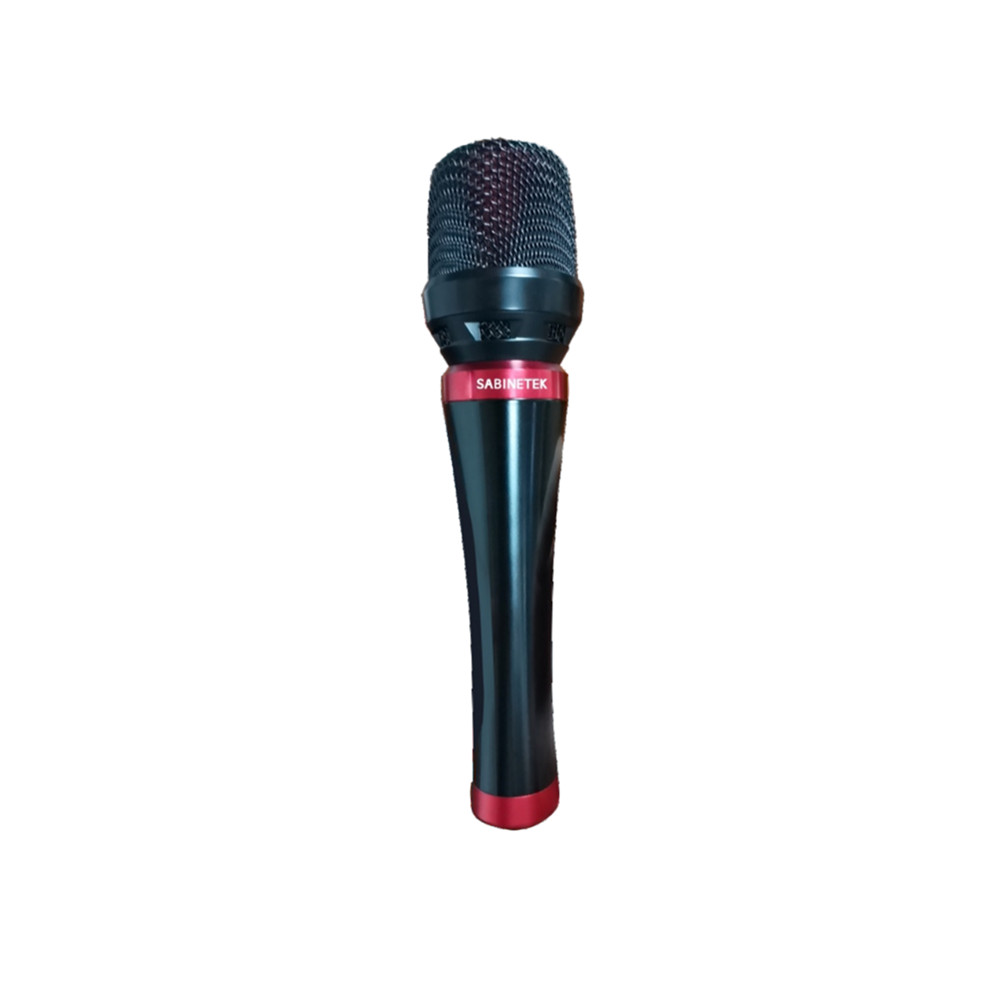 SPEC
Product Name
SabineCast
Model
P100
Product size
238*142*38mm
Net weight
560g
What's in the box
SabineCast Audio Console*1
User Manuel*1
Live Cable*2
Audio Cable*1
USB Cable*1
General type
Home/Outdoor
Installation method
external
Channel system
dual channel
Sampling rate
32kHz 16bit
Multi speaker mode
2.0
Audio interface
USB&3.5mm TRRS & 3.5mm TRS
Battery capacity
1800mAh
Power supply
5V,1A
Product Name
Wired Microphone
Model
PM01
Product size

Φ

50*205mm

Net weight
315g
What's in the box
User Manuel*1
Microphone Stand
Audio Cable*1
Element
Φ34 Pressure Gradient Transducer
Polar Pattern
Uni-directiona
Frequency Response
20Hz-20kHz
Sensitivity
 -34dB±2dB(0dB=1V/Pa at 1kHz
Output Impedance
≥1000Ω
EquivalentNoiselevel
16dBA
S/N Ratio
78dB
Electrcal current
3mA