รายละเอียด
Radial USB-Pro Stereo USB DI
Features
High Performance 24bit/96kHz digital audio converter
Plug & Play, no drivers required
3.5mm headphone output to test signals
Balanced XLR outputs to feed a mixer or PA
Connect your laptop to a pro audio system
Whether you are playing backing tracks on stage, giving an audio presentation, or performing the role of DJ at an event, the USB-Pro is the easiest way to provide a high quality noise-free connection between a laptop and any sound system. Made for plug and play simplicity, the USB-Pro will automatically be listed as an available sound card in the audio settings of all popular operating systems including Windows and Mac, with 24bit/96kHz digital to analog converters that retain the quality of the audio signal. A stereo pair of balanced XLR outputs allows you to connect to a microphone preamplifier, PA system, mixing console, or even a powered speaker, with an on-board level control for quick and easy volume adjustments. Should any noise be encountered, ground lift switches are provided and isolation transformers can be inserted into the signal path to eliminate hum and buzz from ground loops, for a clean connection to the PA.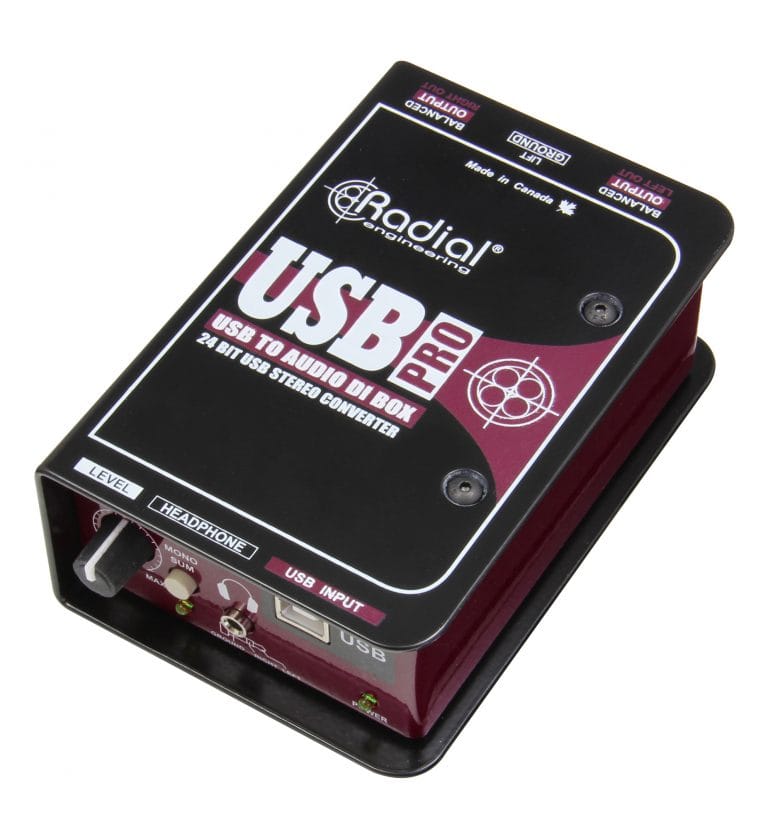 Using the USB-Pro with a laptop
Nothing is simpler than the USB-Pro! You plug it into your laptop and it automatically delivers your digital audio files to spectacular sounding stereo audio via the 24 bit digital to analog converters. You merely connect to the mic inputs on your mixing console or to any 4 line level device and you are set to go!
Using the USB-Pro in the studio
Convert your client's files instantly! Simply connect the laptop to the USB-Pro and transfer files to the recording system at the maximum sample rate for best audio fidelity. The built-in headphone amp makes it easy to check for signal integrity.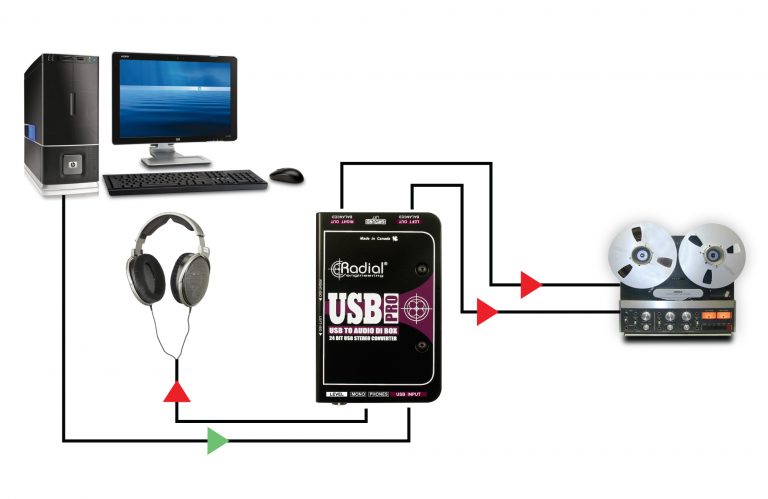 Using the USB-Pro for a video presentation
Anyone that has incorporated audio with a projector knows that noise can be a serious problem. The USB-Pro is equipped with isolation transformers that may be switched in to eliminate hum and buzz caused by stray DC voltage and ground loops.