รายละเอียด
Radial ProD8 Rackmount DI
Features
High density 8-channel rackmount DI for keyboards
Reversible rack ears to optimize patching setup
Withstands extreme dynamics from high-output sources
Redundant inputs let you incorporate a backup system
Professional performance
The ProD8 features up to 8 direct box outputs in a single 1RU rack space for professional touring, with dual ¼" inputs on each channel to incorporate a backup system or connect up to 16 channels of audio at once. A ¼" TRS effects insert jack on each channel allows for connection to various effects devices while adding greater routing options, while a thru-put jack delivers a direct feed to the artist's playback system. The front panel features isolated XLRs for balanced low-noise outputs, each equipped with ground lift and 180° polarity reverse switches.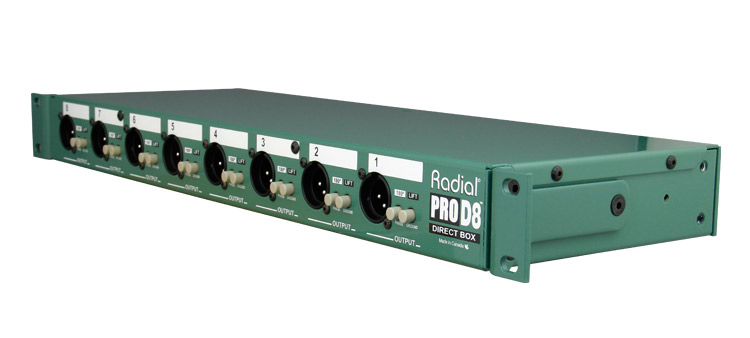 Transformer driven for greater headroom & low noise
The engine inside the ProD8 is a custom wound Eclipse ET-DB2 transformer that performs both the impedance matching and balancing. Linear from 20Hz to 20kHz, it is able to withstand the extreme dynamics common with today's digital keyboards. Unlike active circuits that overload and square wave when the rail voltage is exceeded, transformers saturate. This means that as the signal increases, the ProD8 naturally rounds out the tone producing a warm Bessel curve reminiscent of the very best vintage audio gear. The other significant advantage to this passive design is 100% galvanic isolation between the source and destination, which eliminates hum and buzz caused by ground loops.
Adaptable Configuration
To enhance setup options, the Radial ProD8 is equipped with reversible rack ears. This handy feature allows the system tech to position the inputs on the front of the rack when interfacing with external keyboards or have them inside if the setup is predominantly equipped with rack modules.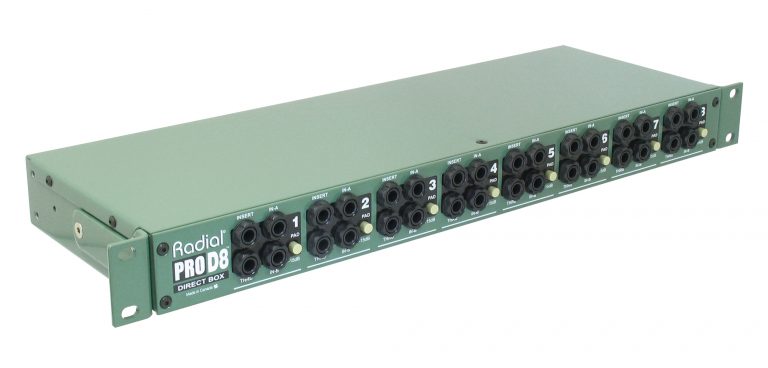 The ProD8 in the Studio
Set the ProD8 rack ears so that the ¼ inputs are on the front panel to make patching different instruments easy. This give you access to the dual inputs and thru-put jacks for quick connection to amps in the studio.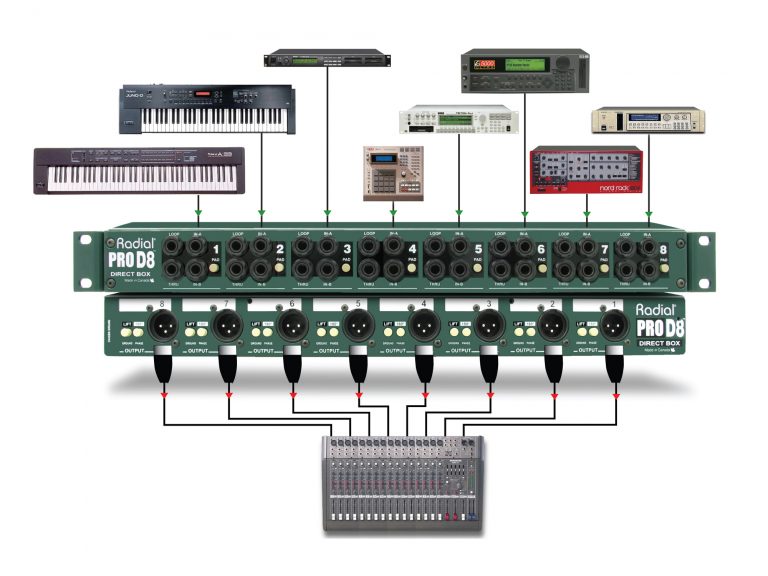 The ProD8 with Rack Synths
Set the ProD8 up with the XLR outputs facing front to accomodate touring racks of modular synths. With the ¼ inputs on the inside of the rack your synths stay connected while sound techs patch the XLR outs into the main snake and PA system.
Using the ProD8 for Backing Tracks
The ProD8's dual summed inputs make it convenient for patching two sources into each channel at the same time. This lets you use the ProD8 for backing tracks with two multi-track running in sync or redundant keyboard setups for live performances.