รายละเอียด
Midiplus MI5 with Bluetooth
Description
The Midiplus MI5 is a pair of 5-inch high-quality Bluetooth monitor speakers, energy-efficient Class D amplifier to provide 100W RMS powerful output power, clear and accurate zero-tone dye sound reduction capability is ideal for arranger, recording, mixing, music appreciation and other occasions. MI5's high-efficiency dual Class-D amplifier achieves a total power of 100W RMS, which is more efficient, less heat and smaller than the common Class AB amplifier.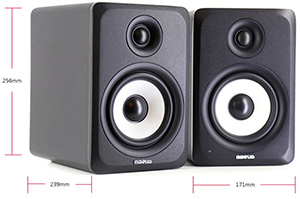 Built-in CSR8635 Bluetooth 4.0 module supports A2DP high-quality transmission protocol, can transmit true 16-bit / 44.1kHz CD-level audio, unrestrained enjoy high-quality music.  MI5 features a 5-inch Woven Glass Fiber woofer and a 1-inch silk dome tweeter that allows low frequencies to dive to 50Hz (-3dB) and high frequencies to 25kHz (-3dB).
MI5 features 4-step (-2dB, -1dB, 0dB, 1dB) high-frequency adjustments that adjust the high frequencies to match your room characteristics. Equipped with 2 TRS balanced inputs, 2 RCA unbalanced inputs, 3.5mm stereo input, and Bluetooth wireless connectivity for high-quality audio.
Features: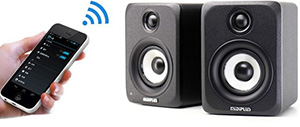 5-inch glass fiber woven basin and a 3/4 inch silk ball dome
dual Class-D amplifier achieves a total power of 100W RMS
Built-in CSR8635 Bluetooth 4.0 module supports
4-step (-2dB, -1dB, 0dB, 1dB) high-frequency adjustment
Two unbalanced RCA inputs, a 3.5mm stereo input