รายละเอียด
Midiplus MI3 with Bluetooth
Description
The Midiplus Mi3 is a pair of 3-inch portable Bluetooth monitor speakers, energy-efficient class D power amplifier to provide 60W RMS power, clear and accurate voiceless sound reduction capability is ideal for arranging, recording, mixing, music appreciation and other occasions. MI3's energy-efficient dual Class-D amplifier achieves a total power of 60W RMS, which is more efficient, less heat and smaller than the common class AB amplifier. The compact size combined with less than 3.1kg allows you to bring Anywhere.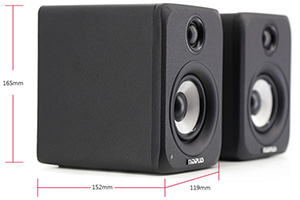 Built-in CSR8635 Bluetooth 4.0 module supports A2DP high-quality transmission protocol, can transmit true 16-bit / 44.1kHz CD-level audio, unrestrained enjoy high-quality music. MI3 features a 3-inch Woven Glass Fiber woofer and a 3/4 inch silk dome tweeter for low frequencies down to 70Hz (-3dB) and high frequency to 25kHz (-3dB ).
Midiplus MI3 has 4 levels (-2dB, -1dB, 0dB, 1dB) high-frequency adjustment, adjustable high-frequency to meet your room characteristics. The MI3 features two unbalanced RCA inputs, a 3.5mm stereo input, and Bluetooth wireless connectivity for high-quality audio.
Features: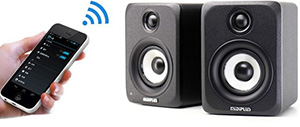 3-inch Woven Glass Fiber woofer and a 3/4 inch silk dome tweeter
dual Class-D amplifier achieves a total power of 60W RMS
Built-in CSR8635 Bluetooth 4.0 module supports
4 levels (-2dB, -1dB, 0dB, 1dB) high-frequency adjustment
two unbalanced RCA inputs, a 3.5mm stereo input,