รายละเอียด
แถมฟรี ! ขาตั้ง , เก้าอี้ , Pedal3ทาง , หูฟัง
KDP110
An exceptional introduction to Kawai digital piano quality.
An impressive addition to Kawai's digital piano line-up, the modest KDP110 features the Responsive Hammer Compact II keyboard action, beautiful Shigeru Kawai SK-EX 88-key sampled grand piano sounds, and convenient Bluetooth®, USB, and MIDI connectivity, delivering grand piano touch and tone at a remarkably affordable price.
HIGHLIGHTS

■  New 3-sensor Responsive Hammer Compact II keyboard action
■  Shigeru Kawai SK-EX grand piano sounds, full 88-key sampling
■  Flexible Virtual Technician function with Smart Mode feature
■  Convenient Bluetooth® MIDI and USB-MIDI connectivity■  Built-in Burgmüller, Czerny, Beyer etudes and Alfred lesson songs
■  Enhanced SHS headphone sound with headphone type settings
■  Powerful 40W stereo amplifier and speaker system
■  Compact cabinet design available in Premium Rosewood finish
TOUCH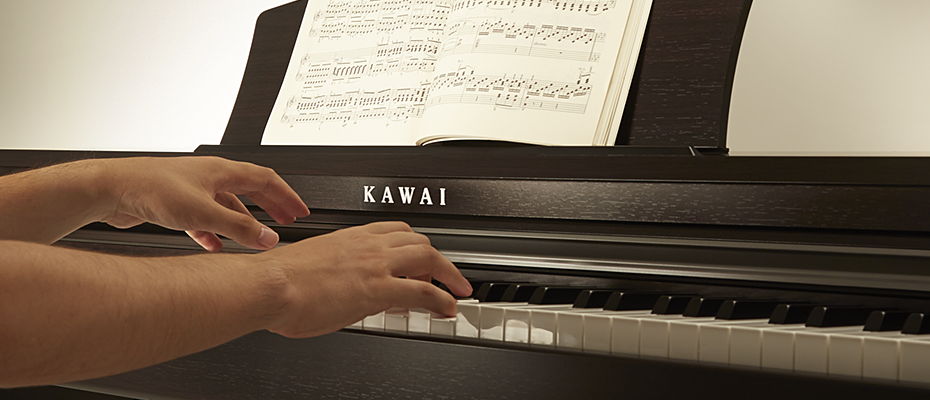 Realistic touch & motion: Responsive Hammer Compact II keyboard action

The KDP110's brand new Responsive Hammer Compact II (RHCII) keyboard action has been developed to represent the distinctive touch of an acoustic grand piano.  Based on the highly-regarded RH keyboard action design, its spring-less technology and sturdy construction delivers consistent upward and downward motion for a smooth, natural, and highly authentic piano playing experience.