รายละเอียด
เปียโนไฟฟ้า Kawai ES8
TOUCH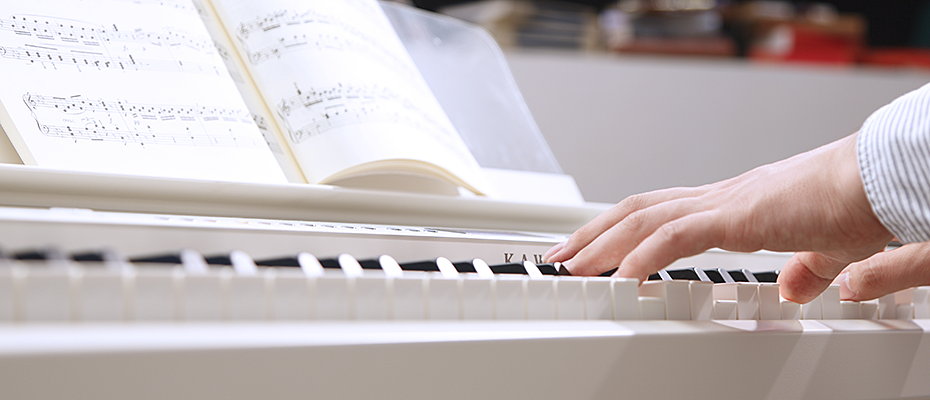 The Touch of a Grand Piano: Responsive Hammer III keyboard action

The ES8's class-leading Responsive Hammer III keyboard action recreates the supreme touch of an acoustic grand piano, with its realistic movement and rigid, springless design providing a smooth and natural piano playing experience. The instrument's triple-sensor key detection system enhances responsiveness and accuracy, while structural reinforcements throughout the action assembly help to minimise noise and key wobble during staccato and fortissimo passages.

The weight of the keyboard is appropriately graded to mirror the heavier bass hammers and lighter treble hammers of an acoustic piano, while let-off simulation recreates the subtle 'notch' sensation felt when softly playing the keys of a grand piano. These important characteristics allow discerning pianists to practise their expanding repertoire with confidence, and ensure that there are no unpleasant surprises when called upon to perform using the finest acoustic grand pianos.

SOUND

The Sound of a Grand Piano: Three world-class instruments

Earning a reputation as the 'premier pianos of Japan', Shigeru Kawai instruments grace the stages of concert halls and musical institutions throughout the world, and are prized for their outstanding tonal clarity and exceptional dynamic range.

The new Concert Artist models capture the magnificent tone of two Shigeru Kawai instruments, the flagship SK-EX Concert and medium-sized SK-5 Studio grand pianos, allowing musicians to enjoy the contrasting properties of each.
In addition, the ES8 also features the distinctive sound of Kawai's highly acclaimed EX concert grand piano, which has frequently been selected by professional pianists in such prestigious events as the Chopin, Tchaikovsky, and Rubinstein international piano competitions, among others.

All three instruments are faithfully reproduced with full 88-key sampling using the latest Harmonic Imaging™ sound technology, to establish a new standard in digital piano tonal quality.

Room-filling resonance & tonal clarity

The ES8's impressive speaker system utilises speaker box enclosures that deliver a rich, expansive sound to rival much larger console digital pianos.  This unique design allows for a compact, portable instrument, capable of enthralling medium-sized audiences without the need for additional amplification.

FEATURES

The Variety of a Digital Piano: Convenience & Flexibility

Complementing the instrument's class-leading Responsive Hammer III keyboard action and stunning Harmonic Imaging XL grand piano sound, the ES8 also offers a strong selection of digital piano features that further enhance one's musical enjoyment.

USB audio record/playback, Dual, Split, and Four Hands keyboard modes, and a rich assortment of instrumental voices add greater variety to players' performances, while the convenient Rhythm Section provides 100 professional backing accompaniments spanning a wide range of musical genres.

iPad connectivity & apps

Connecting the ES8 to an iPad using a USB cable or wirelessly allows players to extend the instrument's functionality with a wide range of education, performance, and scoring apps.

A dedicated Virtual Technician app is also freely available, providing an enjoyable way to learn about and adjust the ES8's various characteristics from an attractive touch interface.

* Quicco Sound mi.1 Bluetooth MIDI device required for wireless connectivity.

DESIGN

Renowned build quality & compact stylish design

Strong, rigid, and surprisingly lightweight, the ES8's modern chassis is engineered from aluminium, with a reinforced keyboard base to provide additional stability.  Its curved wooden side panels reflect Kawai's acoustic piano heritage, and double as convenient hand grips when lifting, while the included metal music rest is durable enough to with-stand the bustle of an enthusiastic classroom and the rigours of the live stage.