รายละเอียดเพิ่มเติม...
HIGHLIGHTS
■  Class-leading Grand Feel Compact wooden-key keyboard action
■  Ivory Touch key surfaces, triple sensor, let-off, counterweights
■  Progressive Harmonic Imaging sound with 88-key sampling
■  Brand new SK-EX Competition Grand piano sounds
■  High quality audio processing and amplification hardware■  Latest Bluetooth® MIDI and Audio v5 wireless connectivity
■  Built-in classical etudes and Alfred lesson books
■  Spatial Headphone Sound for enhanced depth and realism
■  Cheekblock control panel with high resolution OLED display
■  Attractive cabinet with 3-position music rest and score support pins
SPECIFICATIONS
Keyboard
・ Grand Feel Compact action
– 88 wooden keys
– Grade-weighted hammers
– Ivory Touch white key surfaces
– Let-off simulation
– Triple sensor key detection
– Bass region counterweights
Pedal
・ Grand Feel Pedal System
– Damper (with half-pedal support)
– Soft
– Sostenuto
Piano Sound
・ Progressive Harmonic Imaging (PHI)
– 88-key stereo sampling
– SK-EX-L, EX, K-60 recording
– 192 note maximum polyphony
Piano Resonance
– Damper Resonance
– String Resonance

Piano Adjustment

・Virtual Technician (18 parameters, via PianoRemote app)
– Touch Curve
– Voicing
– Damper Resonance
– Damper Noise
– String Resonance
– Key-off Effect
– Fall-back Noise
– Hammer Delay
– Topboard
– Decay Time
– Release Time
– Minimum Touch
– Stretch Tuning
– Temperament
– Temperament Key
– User Key Volume
– Half-Pedal Adjust
– Soft Pedal Depth・Virtual Technician Smart Mode (10 presets)
No. of Sounds
19 voices
Reverb
6 types
Brilliance
✔
Other Effects
–
Speakers
13 cm x 2 (woofers)
5 cm x 2 (tweeters)
Output Power
40 W (20 W + 20 W)
Headphone Enhancements
Spatial Headphone Sound
Headphone Type
Display
128 x 128 pixel OLED
Key Cover
Sliding type
Music Rest
Collapsible type (3 angle adjustability)
Score support pins
Product
Size & Weight
Width
136 cm (53 1/2″)
Depth
48.5 cm (19 1/4″)
Height
91.5 cm (36 1/4″ ) [music rest flat]
109 cm (43″) [music rest raised]
Net Weight
57.5 kg (126 3/4 lbs.)
Packing
Size & Weight
Dimensions
146.5 (W) x 71.5 (D) x 58.5 (H) cm
Gross Weight
71.5 kg (without bench)
80 kg (with bench)
Available Finishes
Premium Satin Black (CA401B)
Premium Satin White (CA401W)
Premium Rosewood (CA401R)
Basic Functions
Dual
Four Hands
Transpose
Tuning
Low Volume Balance
Startup Setting
Internal Songs
Sound Demo
19 songs
Piano Music
–
Concert Magic
40 songs
Lesson Songs
Burgmüller 25 (25 Etudes Faciles, Opus 100)
Czerny 30 (Etudes de Mécanisme, Opus 849)
Beyer 106 (Vorschule im Klavierspiel, Opus 101)
Chopin Walzer (Chopin waltzes series 1-19)
Alfred's Basic Piano Library Lesson Book Level 1A
Alfred's Basic Piano Library Lesson Book Level 1B
Internal Recorder
Total Memory
approximately 10,000 notes
No. of Songs
3 songs
Parts
1 part
Metronome
Time Signatures
1/4, 2/4, 3/4, 4/4, 5/4, 3/8, 6/8
Drum Rhythms
–
Bluetooth *
Bluetooth (Ver. 5.0; GATT compatible)
Bluetooth Low Energy MIDI Specification compliant
Bluetooth Audio (Ver. 5.1; A2DP compatible)
USB Audio Recorder
Record/Playback
–
Other Functions
–
App Functions
PianoRemote (iOS/Android)
PiaBookPlayer (iOS/Android)
Connector Jacks
Headphone
1 x 1/4″, 1 x 1/8″ Stereo jacks
MIDI
USB-MIDI, Bluetooth MIDI *
Line Out
–
Line In
–
USB to Host
✔
USB to Device
–
Others
–
Power Consumption
12 W
Power
Power cable
AC adaptor (PS-154)
Bench
Fixed-height or height-adjustable bench *
Headphones
Headphone hook
Sheet Music
–
Others
Warranty Card *
Owner's Manual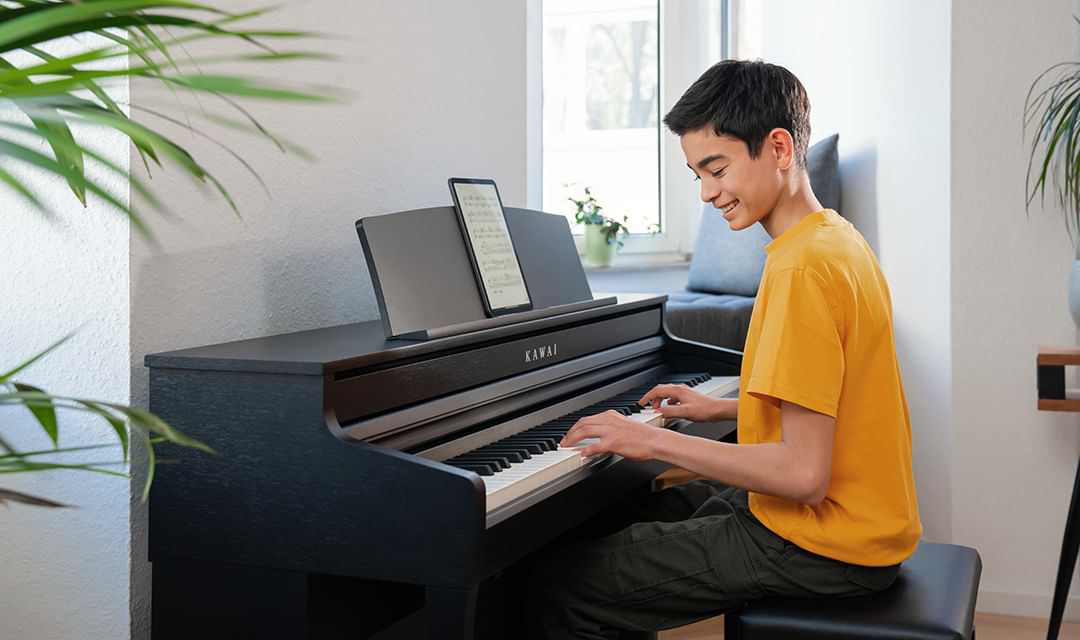 Feel Inspired

A piano that will encourage enthusiastic players to become accomplished pianists, and transform living rooms into grand concert halls.  This is the ambitious philosophy behind Kawai's latest Concert Artist series – premium instruments that capture the essence of playing a magnificent concert grand piano, and inspire musicians of all ages and abilities to realise their true artistic potential.
TOUCH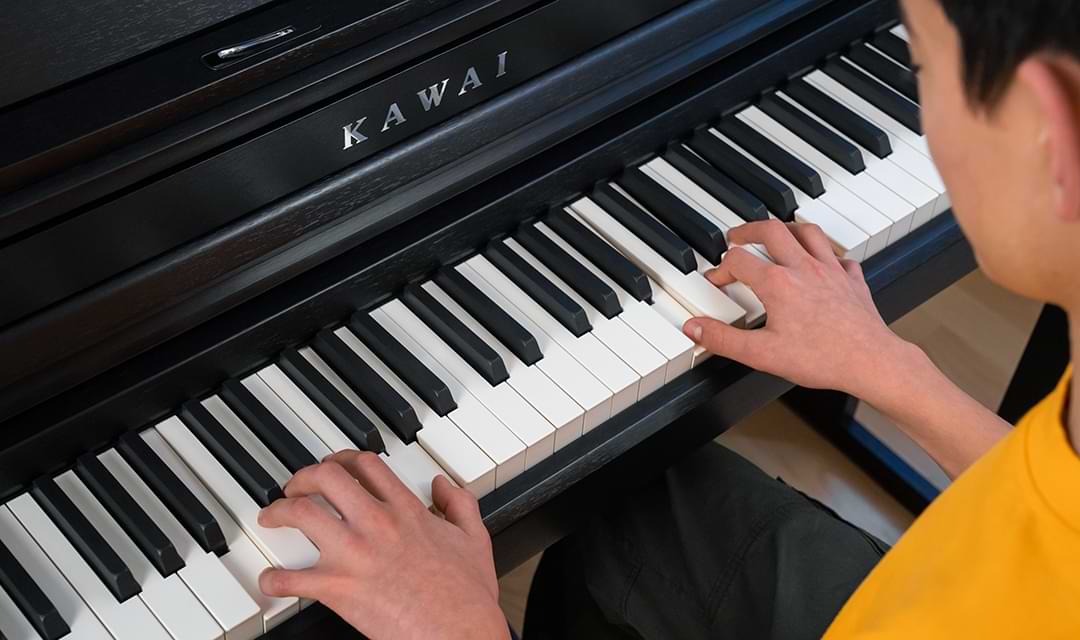 The Touch of a Grand Piano: Grand Feel Compact wooden key action

With an emphasis on piano-focussed authenticity, the CA401 utilises the superb Grand Feel Compact wooden-key keyboard action.  As its name suggest, the GF Compact action has been designed to reproduce the authentic touch weight characteristics of the industry-leading Grand Feel keyboard actions, within a smaller form factor.
 Long wooden key    Counterweight    Balance pins    Weighted hammers
 Let-off mechanism    Triple sensor    Ivory Touch key surface

This action retains the long wooden keysticks used for all 88 black and white keys, and the familiar 'seesaw' mechanism employed by acoustic grand piano actions for centuries.  However, despite its smaller unit size, GF Compact features an extended key pivot length, providing a more consistent touch weight when playing towards the rear of the keyboard.  This crucial detail, along with various other acoustic piano-like characteristics, ensures the CA401 delivers the most realistic playing experience in its class.
SOUND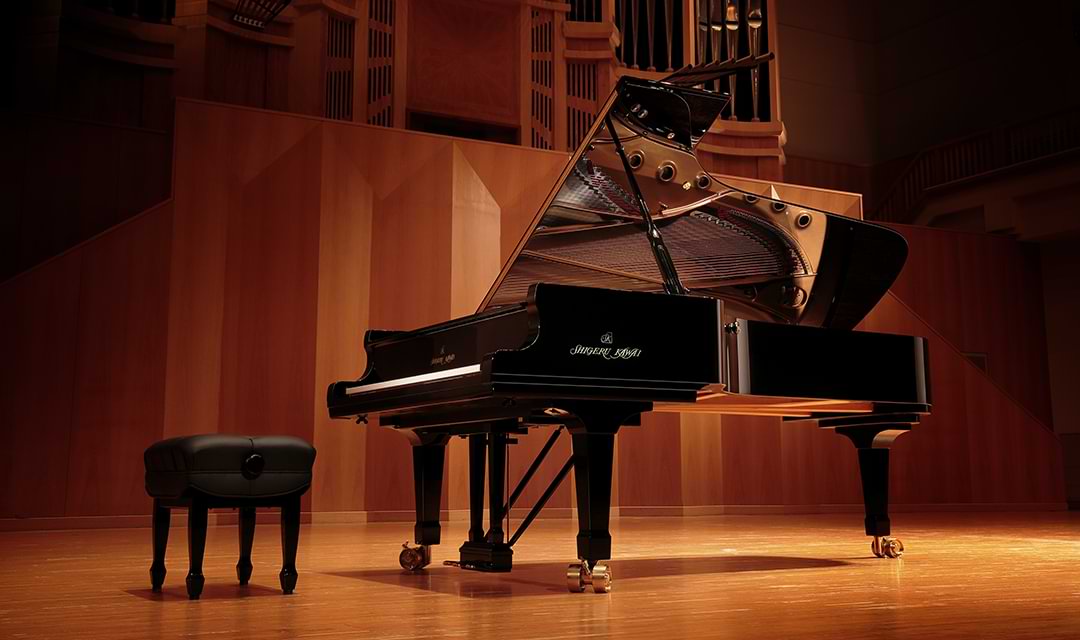 The Sound of a Grand Piano: Shigeru Kawai SK-EX

Eponymously named after the company's second president, the Shigeru Kawai range of luxury grand pianos were conceived as the next step in evolving the art of the piano. Each world-class instrument is hand-crafted by experienced piano artisans, using the finest available materials to ensure optimum touch, tone, and artistic expression.

Widely regarded as 'the premier piano of Japan', the flagship SK-EX grand piano graces the stages of concert halls and musical institutions around the globe, receiving universal acclaim for its tonal clarity and exceptional dynamic range. The magnificent tone of the SK-EX is at the heart of the CA401, with this new model featuring the latest SK-EX Competition Grand recreation of this peerless instrument.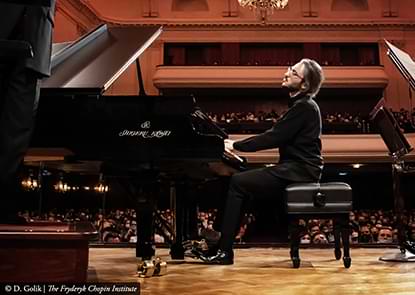 SK-EX Competition Grand sound

The brand new SK-EX Competition Grand captures the sound of the latest generation SK-EX-L instruments, that in recent years have achieved success at the Chopin, Hamamatsu, and Sendai international piano competitions.

This piano sound possesses a brilliant, clear tonal character, with a distinctive thick attack, and is specifically recorded from the pianist's position for the ultimate performance experience.