รายละเอียด
เอฟเฟคกีตาร์ Headrush Looperboard
7″ touchscreen interface
Looperboard's large 7″ color touchscreen is easy to read from a standing position, even in the most unforgiving lighting conditions. This screen lets you keep an eye on incoming audio and visualize loops at a glance. Looperboard's touch, swipe, and drag interface is intuitive to use and fast to learn. Even if you're new to loopers, with the HeadRush Looperboard you're well on your way to becoming an ad-lib authority and multitrack maven.
Rugged steel enclosure
Weekend warrior? Frequent flyer? The HeadRush Looperboard's steel housing is built to withstand the rigors of the road.
Loaded with premium effects
Looperboard is loaded with a ton of premium modeling and FX. With so many great sounds right onboard, you can easily make Looperboard your all-in-one gigging solution for all performance and looping needs.
Quad-core DSP
Looperboard's quad-core architecture provides plenty of power for manipulating multitrack audio without bottlenecking.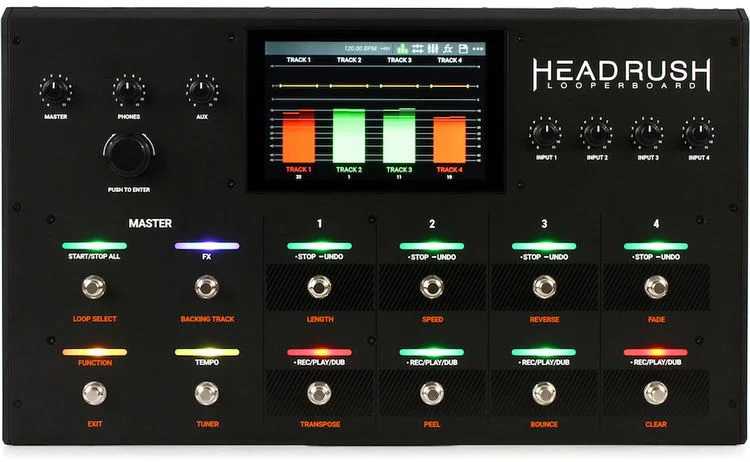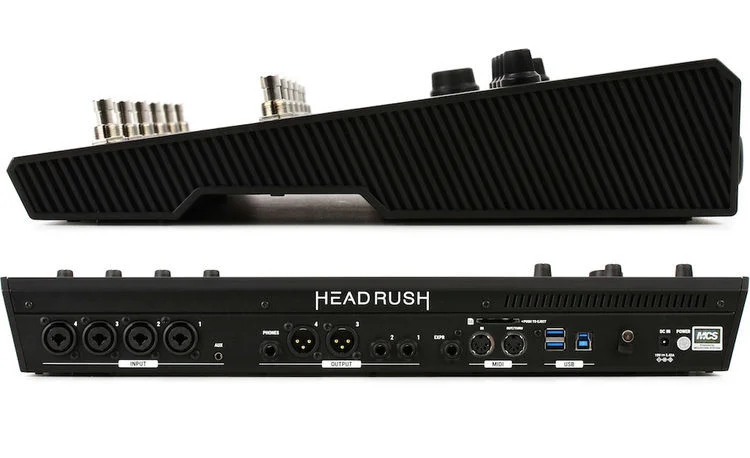 12-switch layout
Dedicated switches and LEDs for each loop's stop/undo and record/play functions, along with a master loop stop/start switch and those for tap-tempo and FX, put Looperboard's incredible recording and processing potential right at your feet.
Intelligent time stretching
Feel like changing up your set? Looperboard gives you a tap-tempo switch with intelligent time stretching, allowing you to speed up and slow down loops at will without altering pitch.
Flexible routing
Looperboard offers endless ways to consolidate your audio into one central hub. Four XLR-1/4″ combo inputs with dedicated gain controls and 48 phantom power are equipped to accept everything from microphones to guitar and keyboard gear, with MIDI in/out/thru to maintain sync with external devices. XLR and 1/4″ outputs allow you to drive a stage amp and feed a soundboard or recording medium simultaneously. There's even a headphone output for silent monitoring and an 1/8″ stereo aux input for audio playback from your phone or tablet.
Pristine recording quality
A premium 16-bit/48kHz signal path within the HeadRush Looperboard preserves the full dynamics and range of every incoming audio source. Drums to vocals, bass to guitar, you can be sure that every layer is heard, felt, and sensed just as it was the moment you first performed it.
Nine hours of record time
With nine hours of onboard recording capability, Looperboard gives you not just songs but entire sets worth of pre-recorded material and looping potential. This makes it a viable option not only for looping aficionados but also for carting dynamic full-band accompaniment to your solo shows and for reproducing vocal harmonies live onstage.
Export loops via USB or SD
An integrated USB audio interface allows you to record your sets directly to a laptop. You can also store loops onto an SD card or USB drive for safekeeping.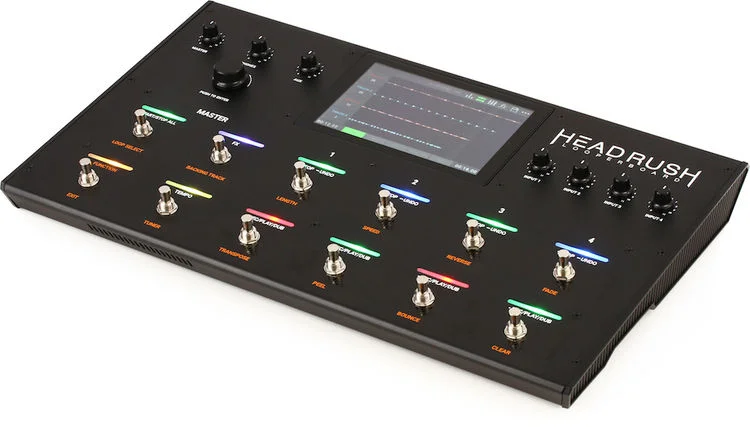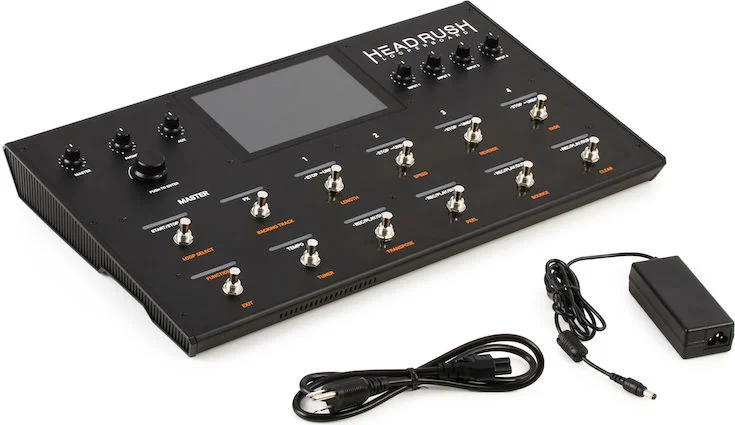 HeadRush Looperboard Advanced Performance Looper Pedal Features:
4-track stereo looper pedal
9 hours of onboard record time
Bright, easy-to-read 7″ touchscreen interface
Quad-core DSP eliminates bottlenecking
Flexible I/O with 4 XLR-1/4″ inputs, stereo 1/8″ aux input, XLR and 1/4″ outputs
MIDI in/out/thru syncs with external devices and performance setups
Dedicated switches for Record/Play, Stop/Undo, tap tempo, and more
Premium 16-bit/48kHz recording path
Intelligent time stretching lets you speed up or slow down loops without altering pitch
USB audio interface lets you export multitrack audio to your DAW
Import/export loops over SD or USB for safekeeping