รายละเอียดเพิ่มเติม...
Fractal Audio FM3
Meet the New FM3 Amp Modeler/FX Processor
Now you can get Fractal Audio's industry-leading amp and cab modeling, plus a suite of stompbox and studio effects, a powerful foot controller, 4×4 USB audio — and more — all in a compact, rugged, all-in-one, floor unit designed for the studio or stage.
The FM3 will be sold in the United States and Canada at a direct price of $999, the lowest price ever for a Fractal Audio amp modeling product. Check the "Availability" tab above for more info on how to purchase the FM3.
In the days and weeks to come, there will be a lot of new FM3 video content. Meanwhile, here's Nashville session player Keven Eknes taking the unit for a quick spin.
The Sound of Fractal Audio
Legendary Amp Modeling and Speaker Simulation
plus a Suite of Incredible Stompbox and Studio Effects
The FM3 features our latest ARES Amp Modeling—a technology developed by Fractal Audio for the award-winning Axe-Fx III. It captures the sound — and the equally important feel — of real tube amps, with 265+ models offering an impressive range of clean tones, elusive "edge of breakup", and everything from warm, touch-sensitive overdrive to face-melting modern distortion.
The FM3 also includes the entire speaker cab impulse response ("IR") collection from the Axe-Fx III, with a stunning 2,200+ "Factory" choices and 1,024 "User" locations to store custom sounds from free or commercial producers.
As a multi-effects unit, the FM3 truly excels. It includes a superb selection of Fractal Audio's state-of-the-art effect algorithms. All of the essentials and many exciting innovations are on board: dazzling drive pedals, dozens of delays, reverbs, compressors, EQs, phasers, flangers and other modulation effects, a looper, and much more.

The Block Inventory of the FM3 is based on that of the award-winning Axe-Fx III.




FM3 Preset Examples (Screen Captures of Actual Factory Presets)
Impressive USB Audio Capabilities
Playback, Record, Re-Amp
With a USB connection to a Mac or PC, the FM3 works as an extremely high quality 4×4 audio interface for playback, recording, and re-amping. This lets the FM3 double as the hub of a portable recording studio.
USB channels are mapped for maximum ease of use. For example, to record the processed stereo output of the FM3, just record inputs 1 and 2 in the computer. Computer inputs 3 and 4 can be used to capture a DI, or to record input 2 L+R in stereo.
Computer playback is also easy and flexible. For studio work, you can mix a project and the FM3 to a single pair of connected monitors and transmit a separate DI to the FM3 for re-amping. For live performances, you can route the stereo FM3 and stereo backing tracks to different stereo outputs.
USB also allows 2-way communication between the FM3 and its companion software applications, FM3-Edit and Fractal-Bot.
In the coming days/weeks there will be a lot of new video content about the FM3. Here's a quick first look with Nashville session guitarist Keven Eknes.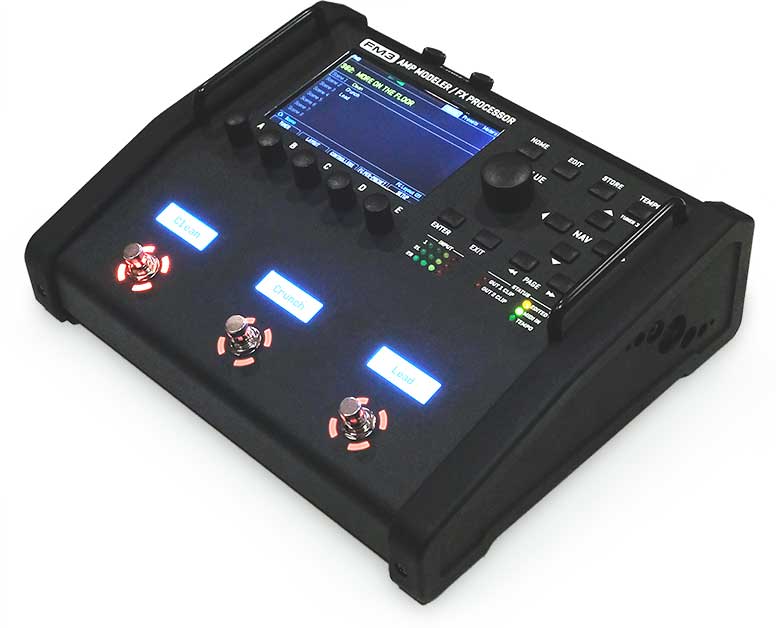 The FM3 is housed in a durable steel chassis with protective endcaps designed to withstand the rigors of touring.
Three onboard footswitches – each with variable-color LED ring and mini LCD display — provide both tap and hold functions, which can be customized to do different things on eight different switch "layouts." The new "Views" feature multiplies the power of layouts, in effect creating a virtual 12-button controller with a 3-button footprint.
In addition, a FASLINK II port allows the FM3 to be connected with up to two Fractal Audio FC-12 or FC-6 foot controllers, providing an exciting array of extended control options.
While designed as a floor unit, the FM3 features an intuitive hands-on interface with the same full-color display and familiar, easy-to-use front panel controls found on the Axe-Fx III.
The unit is powered by a 3-Core "Griffin" DSP with one ARM and two SHARC+ cores providing superior power in a compact format. A dedicated graphics processor allows the main DSPs to be focused on critical audio tasks
Summary of Features
FM3 is a compact floor unit with three onboard switches.
3-Core "Griffin" Processor plus dedicated GPU.
Hundreds of accurate models with real tube amp sound and feel.
Rugged steel chassis with protective endcaps and handles
Features ARES Amp Modeling developed for the Axe-Fx III
Easy-to-use front panel interface, plus free FM3 Edit software.
Includes all factory cabs from Axe-Fx III, plus 1,024 user cab slots.
Ultra-low noise instrument input plus XLR stereo main outputs.
Impressive multi-effects capability based on Axe-Fx III.
Additional Stereo I/O Pair, plus headphone & SPDIF outputs.
Uncompromising sound quality and road-worthy reliability.
4×4 USB Audio, 2 onboard switch/pedal jacks, MIDI In & Out/Thru
Fantastically flexible 3-button integrated foot controller.
Easy-to-Read precision Tuner with graph and virtual strobe displays.
FASLINK II allows adding up to two FC-12/FC-6 controllers.
Upgradeable firmware allows constant improvement and innovation