รายละเอียดเพิ่มเติม
MiniFuse 2 is a next-gen audio & MIDI interface that gives you everything you need to make music and audio your own way. With unmatched sound quality, smart connectivity, and an exclusive music-making software pack, this is a portable audio companion evolved.
Get your sound out there.
Get inspired and express yourself through sound whenever & wherever with a portable, fully-loaded, and easy-to-use interface like no other.
Whether you're a singer-songwriter, keyboardist, composer, or anything in between, enjoy unmatched sound quality, a smart feature set, and the best software included as standard. MiniFuse 2 lets you sound like you – what are you waiting for?
2x
Input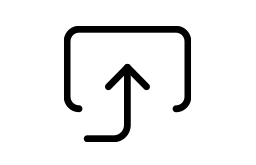 2x
Outputs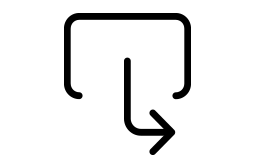 1x
Headphone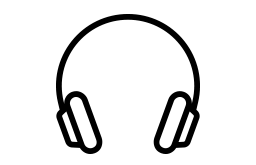 1x
MIDI I/O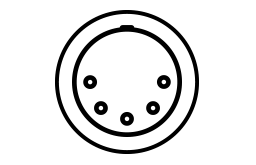 1x
USB Hub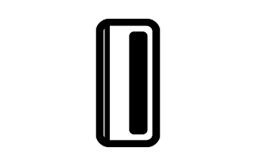 MiniFuse 2's connections, features, and unique innovations are designed to make your creative life easier.
Recording made easy
Designed by engineers and gear experts with a passion for sound excellence, MiniFuse 2 is built to answer every audio question you have – before you've even asked it.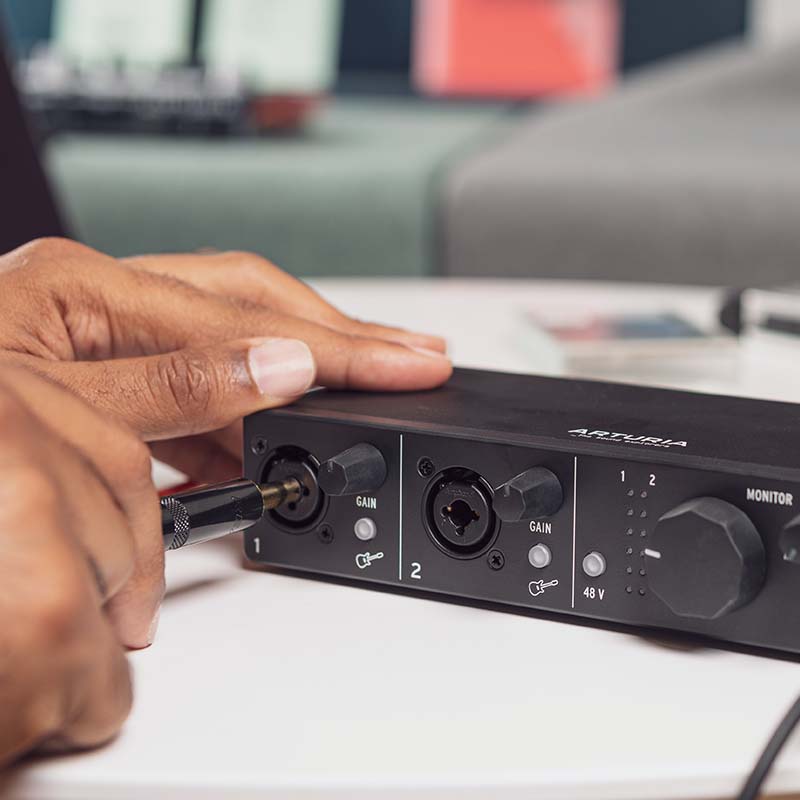 Creativity connected
MiniFuse 2's inputs and outputs bridge the gap between your ideas and the finished product. Record 2 instrument or mic sources simultaneously with dual combo inputs, sync and record your MIDI devices with 5-pin DIN connections, and connect extra devices with the additional USB hub socket – all via universal USB-C computer connectivity.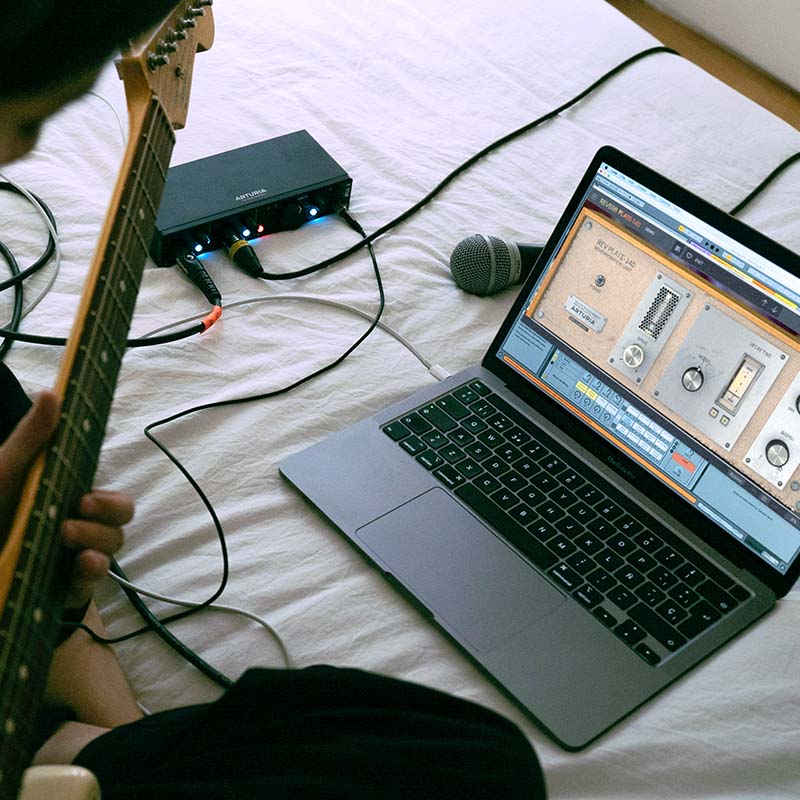 Simply the best sound
On paper, MiniFuse 2 gives you a 110dB dynamic range and a top-tier equivalent input noise of -129dB. Put more simply, that means unbelievably great sound that can compete with even the finest studios. Enjoy responsive dynamics, a clear noise-free signal, and quality that you can really feel.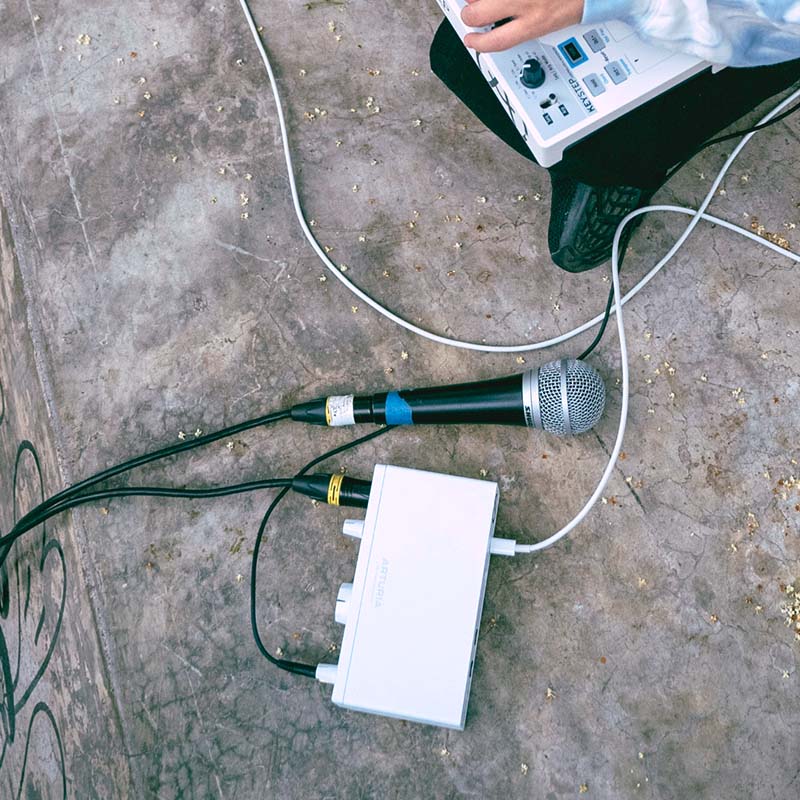 Tough, portable design
MiniFuse 2 is designed to accompany you for those last-minute sessions, quick deadlines, and spontaneous musical moments. It's not only compact and lightweight; its rugged aluminium casing can handle the mobile producer's lifestyle. Take your sound with you, wherever you go.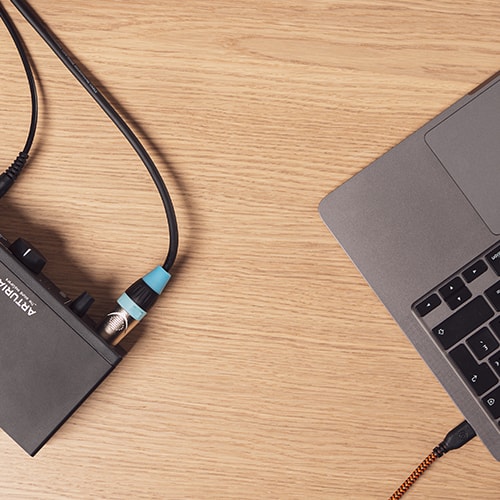 Fully operational
Whether you're using a laptop or desktop, MiniFuse can work for you. PC or Mac, connect it and enjoy total recording freedom. Better still, with the MiniFuse Control Center app, you can monitor its inputs, outputs, settings, and firmware updates in one place.
The best software included
Your MiniFuse 2 gives you an exclusive selection of software titles offering everything you need to give your sound the professional edge. These aren't fremium plugins or demo bundles – this is the same exceptional software used by music and audio professionals worldwide.
Ableton Live Lite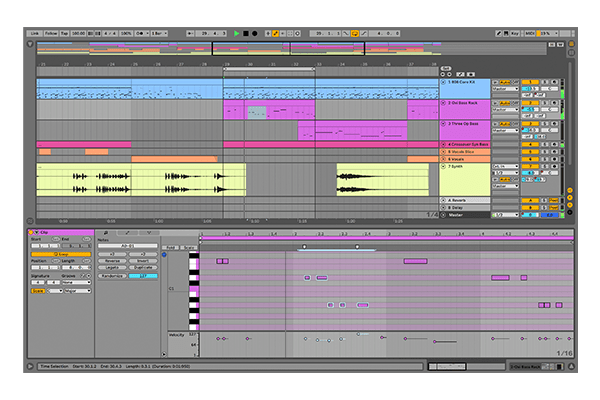 Compose, record, perform, and produce anything with an introduction to one of the most widely-used musical software titles in the business – yours with MiniFuse.
Analog Lab Intro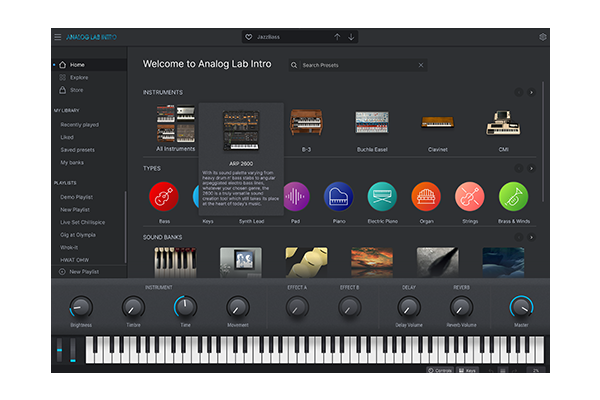 Instantly add inspiring sounds from our award-winning keyboard emulations to your mix with hundreds of presets to explore, from vintage '80s synths to fat modern sounds.
Arturia FX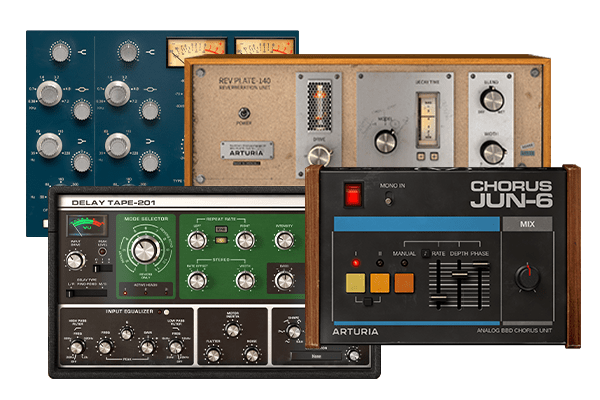 Color your sound with 4 premium FX plugin recreations of studio classics; a lush plate reverb, a gritty analog preamp, a classic tape echo, and a rich stereo chorus.
Native Instruments
GUITAR RIG 6 LE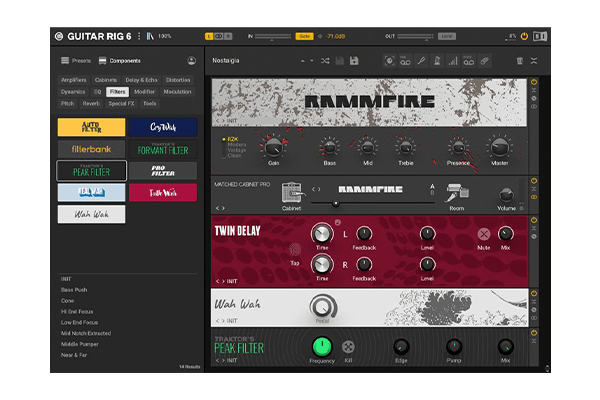 An inspiring selection of amps, cabs, delays, reverbs, stompboxes and compressors, so you can build your own processing chains and customize your perfect guitar tones.
Auto-Tune Unlimited
3-months free subscription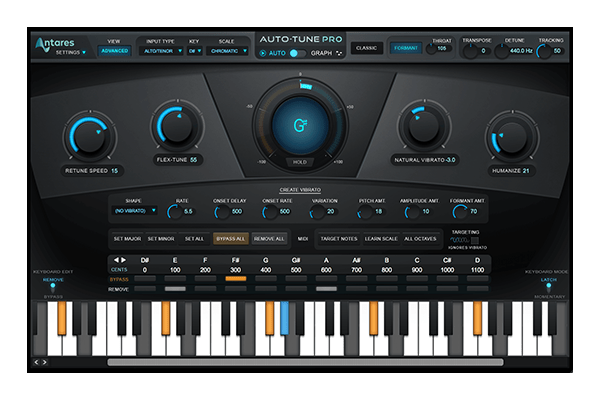 Refine your vocal parts for perfect harmony or go full trap-style autotune with a 3-month subscription to the industry's favorite voice tuning plugin.
Splice Creator Plan
3-months free subscription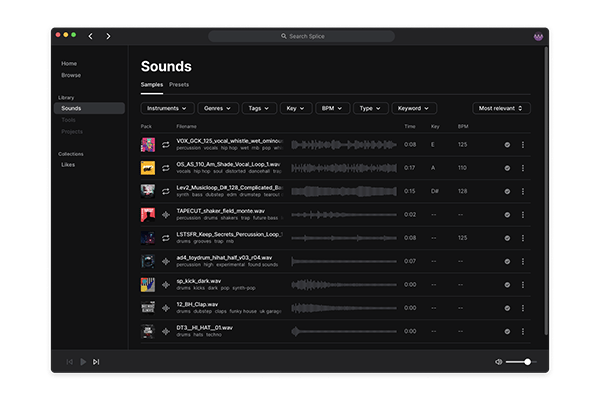 Access millions of hi-def royalty-free samples, from lo-fi drum loops to punchy vocal one-shots, as well as synth sounds, Splice Skills tutorials, and much more.What's stopping you?
Plug in and start making music
With MiniFuse, making music & creating audio has never been so easy. Just connect and get creative! /01
Getting started
Plug in your MiniFuse and follow the steps. Register your product and install all included software in a flash using our dedicated startup pages. /02
We're here to help
Access video tutorials and quick advice to configure your musical setup to suit you. /03
Learn from the pros!
Check out the MiniFuse how-to series to guide you from your first steps through to finishing your projects. /04
Never-ending inspiration
Access exclusive sessions produced by top producers worldwide using only the MiniFuse software pack. Dig into original MiniFuse sessions for every genre.
5-year warranty
From careful selection of components through to manufacture & testing, the MiniFuse range is engineered to last.
Each interface is constructed with the most robust & reliable materials, and goes through over 200 reliability tests before approval, meaning better build quality, a better product for the environment, and better value for you.
We're so confident in the MiniFuses' durability that we offer a 5-year hardware warranty on every unit we sell – one of the most extensive warranties on the market. Get creative safe in the knowledge that your MiniFuse can go the distance.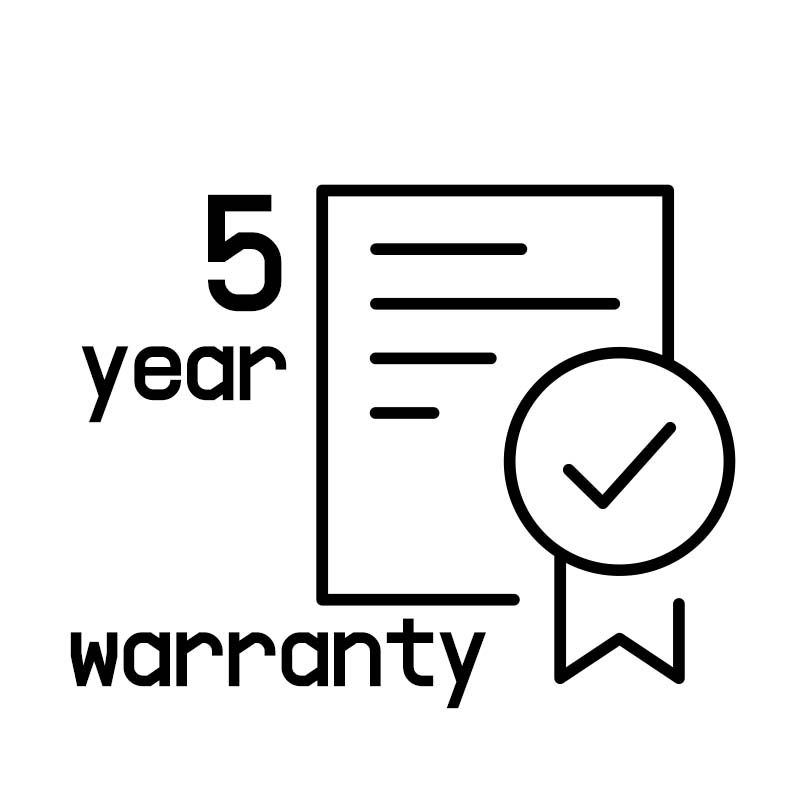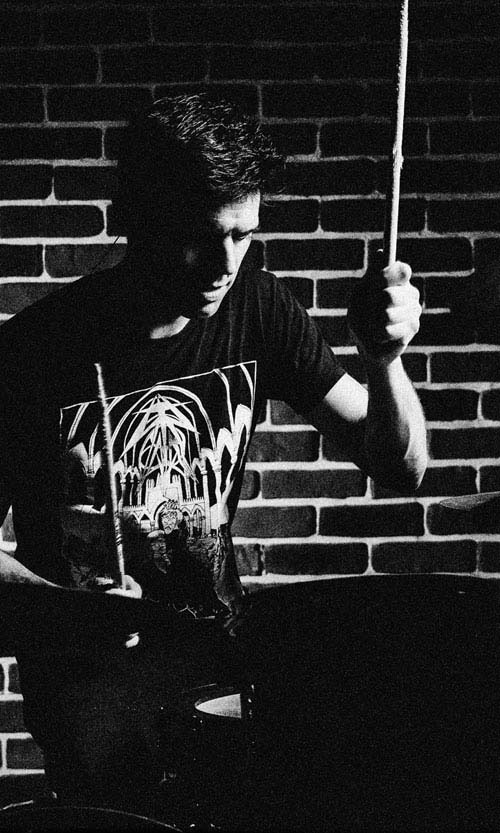 For musicians
If you're a guitarist, keyboardist, or anything in between, capture your instrument with plug-and-play ease and beautifully transparent sound.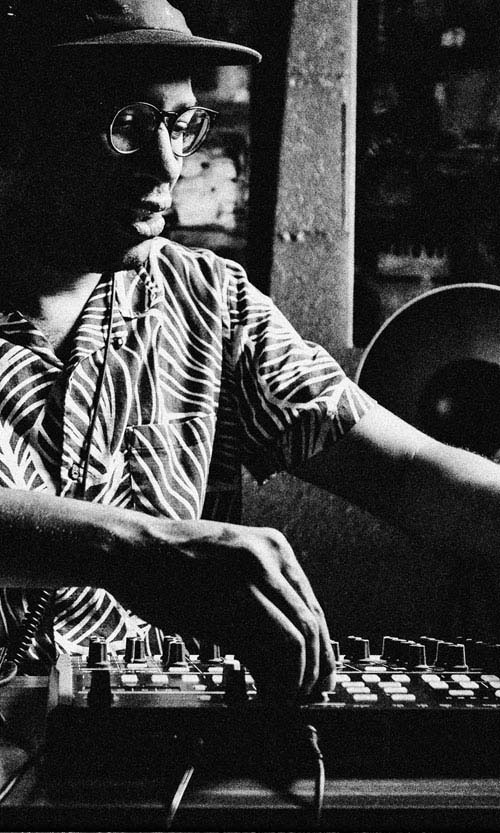 For producers
Whether you're making beats or fine-tuning a live band mix, MiniFuse is the perfect companion for a quick recording, adjustment, or session on the move.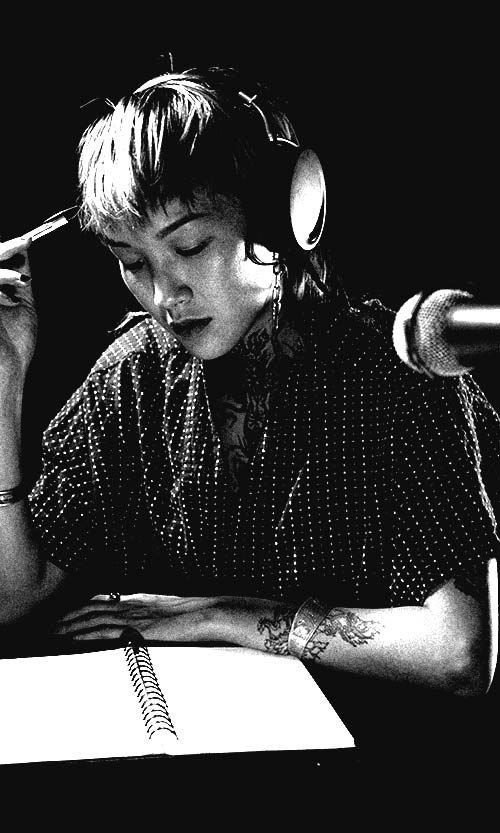 For singer-songwriters
Record your musical ideas with crystal-clear sound in no time, from vocal lines to your new favorite chord sequence, and keep your creativity flowing.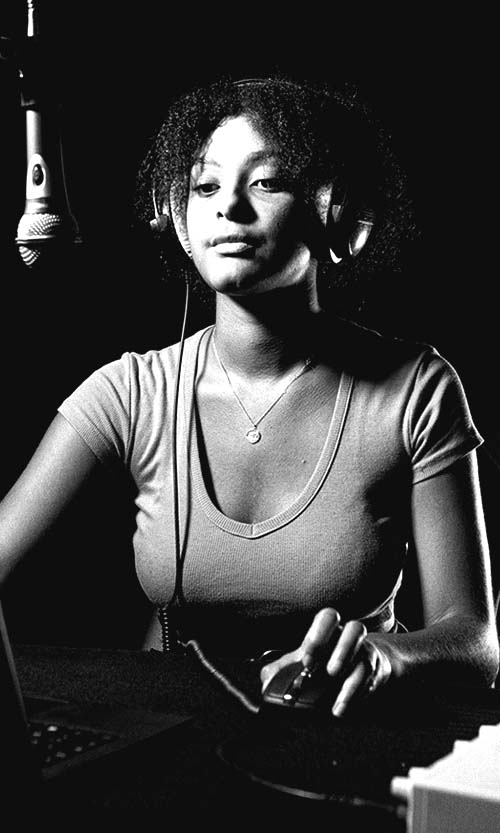 For podcasters
MiniFuse pairs with any microphone to perfectly reproduce the detail and character of your voice, so you can tell your story without hassle.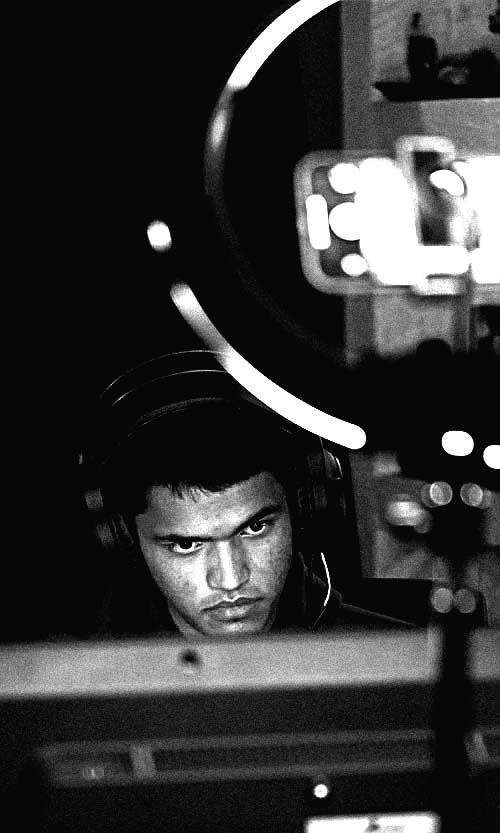 For content creators
Easily capture voiceovers alongside in-app or in-game audio with MiniFuse's Loopback function, for quality content in one take.
Main Features
Included Arturia instruments – 500 vintage & modern keyboard presets with Analog Lab Intro
Arturia FX:

Rev PLATE-140 reverb
Pre 1973 vintage preamp
Delay TAPE-201 echo
Chorus JUN-6 analog chorus

Ableton Live Lite – compose, record, produce anything
Tutorials – Learn recording and music production with MiniFuse, starting with the basics
Exclusive content – Tips, tricks, and advice from industry experts
Dedicated online portal – Access everything you need online in one place
Subscriptions – Complimentary introductions to world-class audio & mixing services
2 x combos Mic/Inst/Line XLR Inputs with 48V phantom power
2 x 1/4″ TRS balanced line outputs with volume control
1 x stereo headphone output with volume control
1 x 5-pin MIDI input 1 x 5-pin MIDI output
1 x USB2 type A hub (250mA max.)
1 x stereo virtual loopback channel
USB-C interface compatible with PC and Mac, fully USB 2.0 compatible
Bus-powered
Platform Requirements
: OS X 10.13 or later (64 bit)
64-bit Intel® Core™ or AMD multi-core processor (i5 processor or faster recommended) with 4 GB RAM (8 GB+ recommended)
: Windows 8.1 or later (64-bit)
64-bit Intel® Core™ or AMD multi-core processor (i5 processor or faster recommended) with 4 GB RAM (8 GB+ recommended)
Size & weight
Instrument size : 7.9 x 3.9 x 1.65 inches (200 x 100 x 43mm)
Instrument weight : 1.1 lbs. (431 g)