รายละเอียดเพิ่มเติม...
Allen & Heath Qu16 Rackmountable Digital Mixer (Chrome Edition)
เครื่องผสมสัญญาณเสียงแบบดิจิตอลสำหรับงานแสดงสดหรือสตูดิโอ Allen & Heath Qu16 Rackmountable Digital Mixer, 5″ colour Touchscreen Interface, 16x Mic/Line Inputs & 3x Stereo Inputs, Motorized 100mm Faders, USB Audio Interface, iPad Qu-Pad Control App, Record/Playback with USB Drives
The chrome edition of the Allen & Heath Qu-16 Rackmountable Digital Mixer is a 16-channel digital mixer and USB audio interface designed for live and installed sound as well as studio use. The chrome edition adds high-contrast chrome rotary and fader knobs that improve visibility in dark conditions, as well as a number of software enhancements from the updated firmware (V1.8)
It features 16 mic- or line-selectable inputs and 3 stereo line inputs. Its 16 anaLOGIQ microphone preamps have digitally recallable settings that can be saved and recalled for future sessions. The Qu-16 has a variety of output options, including 4 mono XLR mix outputs, 3 XLR stereo-pair mix outputs, an alternative TRS stereo-pair mix output, a TRS stereo-pair 2-track output, and a 2-channel AES digital output.
The Qu-16 has 16 busses as well as 4 stereo effects returns, and offers a variety of routing options and controls. It has a 5″ 800×480 resolution touchscreen that displays your metering and RTA views, effects tracks, processing, routing, and saved scenes.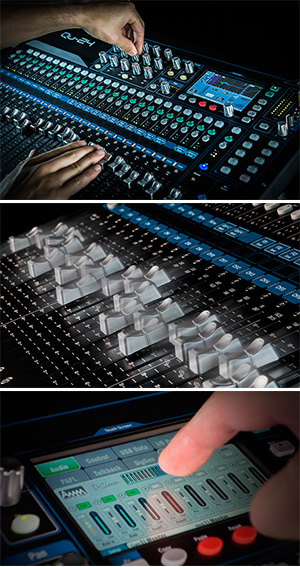 The 16 tracks are controllable with the 16 100mm motorized faders. Built-in processing allows you to EQ, compress, gate, switch polarity, and apply delay to all 16 tracks. All of your settings can be saved as a scene and recalled later for quick setup.
Thanks to its internal convertors, the Qu-16 is also a USB audio interface and can record to any Core Audio-compatible software on your Mac. You can also record to and play back audio from an external USB hard drive. It is compatible with the Qu-Pad iPad app that allows you to control your mix with your iPad over a connected wireless network. The Qu-16 unit itself can be rackmounted or set up on a desk.
Features:
Chrome Knobs & Faders + Updated Firmware
Touchscreen Interface
16x Mic/Line Inputs & 3x Stereo Inputs
Motorized 100mm Faders
Recallable Preamps
USB Audio Interface
Record/Playback with USB Drives
iPad Qu-Pad Control App
16 Busses & 4 Stereo FX Returns
Built-In Processing and Effects
Specifications
Input / Output
Inputs
16x 1/4″ (6.35 mm) Balanced TRS Line Inputs
16x XLR Mic Inputs
2x Stereo Pair 1/4″ (6.35 mm) Balanced TRS Inputs, Half-Normalled
1x Stereo 1/8″ (3.5 mm) Unbalanced Mini-Jack Input
1x XLR Talkback Mic Input
1x Ethernet dSNAKE Remote Source for Channels 1 to 16, ST1, ST2, ST3
Preamplifier
Analog Gain: -5 to 60 dB, 1 dB Steps
Trim
Stereo Line Inputs: +/- 24 dB
Input Sensitivity
XLR: -60 to +5 dBu
TRS: -50 to +15 dBu
Stereo 1, 2, 3: Nominal 4 dBu/0 dBu
Maximum Input Level
XLR: 19 dBu
TRS: 29 dBu
Stereo 1, 2, 3: 22 dBu/19 dBu
Input Impedance
XLR: > 5 kOhms
TRS: > 10 kOhms
Stereo Line Inputs: > 7 kOhms
THD + N
Unity Gain 0 dB: 0.0005%, -89 dBu (20 Hz to 20 kHz, Direct Out @ 0 dBu, 1 kHz)
Mid Gain 30 dB: 0.001%, -83 dBu (20 Hz to 20 kHz, Direct Out @ 0 dBu, 1 kHz)
Outputs
4x Mono XLR Mix Outputs
3x Stereo Pair XLR Mix Outputs
1x Stereo Pair XLR Main Outputs
1x Stereo Pair 1/4″ (6.35 mm) TRS Alt Mix Output
1x Stereo Pair 1/4″ (6.35 mm) TRS 2TRK Output
1x XLR AES Digital 2-Channel, 48 kHz Sampling Rate Output (2.5 Vpp Balanced Terminated 110 ohms)
1x Ethernet dSNAKE Remote Outputs for Mix 1 to 10, LR
Output Impedance
XLR/TRS: < 75 ohms
Nominal Output
XLR/TRS: 4 dBu = 0 dB Meter Reading
Maximum Output Level
XLR/TRS: 22 dBu
Residual Output Noise
XLR/TRS: -91 dBu (Muted, 20 Hz to 20 kHz)
System
Dynamic Range
112 dB
Frequency Response
20 Hz to 20 kHz (+/- 0.5 dB)
Headroom
18 dB
Operating Level
Internal: 0 dBu
dBFS Alignment
18 dBu = 0 dBFS (22 dBu @ XLR Output)
Calibration
Meter: 0 dB Meter= 18 dBFS (4 dBu @ XLR Output)
Meter Peak Indication
-3 dBFS (19 dBu @ XLR Output), Multi-Point Sensing
Meter Signal Indication
-48 dBFS (-26 dBu @ XLR Output)
Meter
Type: Fast (Peak) Response
Sampling Rate
48 kHz +/- 100 PPM
Analog to Digital Converter
24-bit Delta Sigma
Digital to Analog Converter
24-bit Delta Sigma
Latency
1.2 ms (Local XLR in to XLR Out)
0.7 ms (Local XLR in to AES Out)
Operating Temperature Range
32° to 95°F (0° to 35°C)
Power Supply
100-240 VAC, 50/60 Hz, 82 W Maximum
USB Interface
Resolution
Send & Return: Send (24 channels), return (22 channels), WAV, 48 kHz/24-bit
Device
USB A
Record / Play Format
Stereo Record: 2-Channel, WAV, 48 kHz/24-bit, Patchable
Stereo Playback: 2-Channel, WAV, 44.1 or 48 kHz, 16 or 24-bit to Stereo 3
Multitrack Record: 18-Channel, WAV, 48 kHz/24-bit, Channels 1 to 16 + Patchable Pair
Multitrack Playback: 18-Channel, WAV, 48 kHz/24-bit, Channels 1 to 16, Stereo 1
Controls
Faders
16x 3.9″ (100 mm) Motorized
Touch Screen
5″ (126 mm) TFT
800 x 480 Resolution
Softkeys
4
Mute Groups
4
Network
TCP/IP Ethernet for iPad App
Processing
Channels
Local, Remote, USB
Stereo Linking
Odd/Even Input Pairs
Parameters Linked: EQ, Dynamics, Insert, Delay, Assignments, Sends
Link Options: Preamp, Polarity, Sidechains, Fader/Mute, Pan
Polarity
Normal/Reverse
HPF
12 dB/Octave, 20 Hz to 2 kHz
Insert
Assign FX into Input Channels
Delay
Up to 85 ms
Gate
Self-Key Sidechain
Threshold/Depth: -72 dBu to 18 dBu / 0 to 60 dB
Attack/Hold/Release: 50 ms to 300 ms, 10 ms to 5 s, 10 ms to 1 s
Parametric Equalizer
Band 1: Selectable LF Shelving (Baxandall), Bell
Band 2 & 3: Bell
Band 4: Selectable HF Shelving (Baxandall), Bell
Bell Width: Non-Constant Q, Variable, 1.5 to 1/9th Octave
Compressor
Self-Key Sidechain
Threshold/Ratio: -46 dBu to 18 dBu (1:1 to Infinity)
Attack/Release: 300 μs to 300 ms / 100 ms to 2 s
Knee: Soft/Hard
Types: Peak Manual, RMS Manual, SlowOpto, PunchBag
Channel Direct Out
Follow Fader, Follow Mute (Global Options)
Source Select (Global): Post-Preamp, Pre-EQ, Post-EQ, Post-Delay
Mix Processing
Equalizer
GEQ: Constant 1/3 Octave, 28 Bands 31 Hz to 16 kHz, (+/- 12 dB Gain), Mix 1-4, LR
Effects
Types: Reverbs, Delays, Gated Reverb, ADT, Chorus, Symphonic Chorus, Phaser, Flanger
4x Dedicated Stereo FX Returns: Fader, Pan, Mute, Routing to Mix/LR, 4-Band PEQ
Tools
PAFL: PFL or Stereo in-Place AFL, 0 to -24 dB Trim, 85 ms Delay
Talkback: Assignable to Any Mix, 12 dB/Octave HPF
Signal Generator: Assignable to Any Mix, Sine/White/Pink/Bandpass Noise
RTA: 31 Bands, 1/3 Octave 20 Hz to 20 kHz, Follows PAFL Source
General
Dimensions (WxDxH)
Desk Mounted: 17.4 x 19.7 x 7.4″ (440 x 500 x 186 mm)
Rack Mounted: 19 x 19.1 x 7.5″ (483 x 486 x 190 mm), 1 RU
Weight
22 lb (10 kg)
Downloads
Video