รายละเอียดเพิ่มเติม
Portable size, potent tone
A Legacy preamp and 3-band Ampeg tone stack give the Rocket Bass RB-115 bass combo the punch, power, and growl that Ampeg amps are known for. A specially voiced 15-inch Eminence speaker succeeds in delivering the goods for practice, tracking, and travel. You also get Ultra Lo and Ultra Hi switches derived from Ampeg's SVT series of bass amps to help enhance your bass and treble registers. Need a meatier tone? The Rocket Bass's SGT controls dial up the heat in a hurry. No matter what style of music you play, there are buckets of big-sounding tones waiting to be discovered in the Ampeg RB-115.
Vintage 1960s Ampeg visuals
Ampeg holds claim to some of the most recorded and toured-with bass amplifiers of all time. The Rocket Bass RB-115 combo amp looks back to Rocket-series amplifiers of the 1960s for its Atomic Age visual cues while focusing forward to bring in-demand bass features to a lightweight design. Whether you're just starting out or you're a van-seasoned veteran, bass players at Sweetwater agree: there's loads to love about the Ampeg Rocket Bass RB-115 bass combo.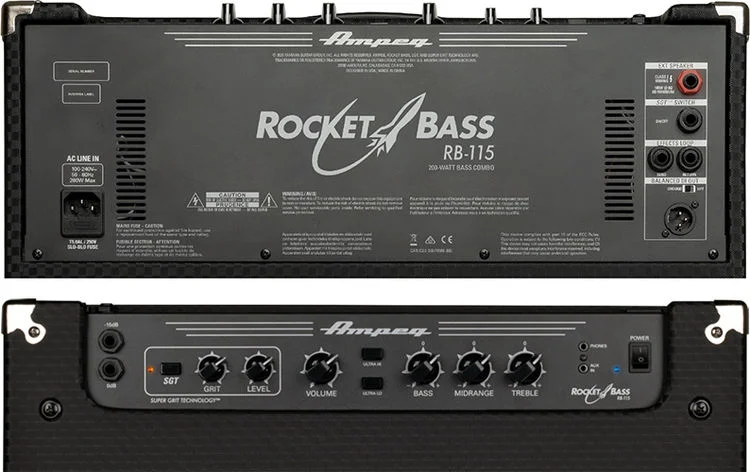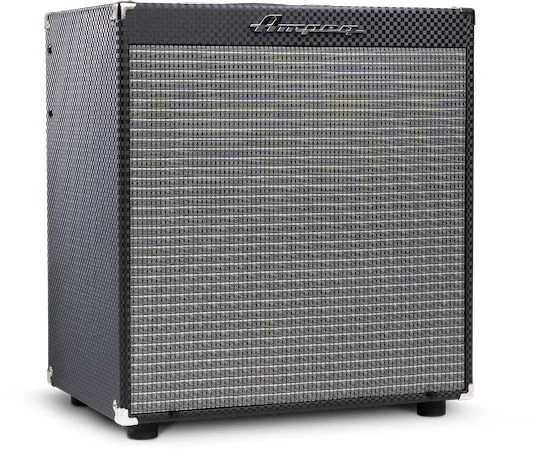 Ampeg RB-115 Rocket Bass Combo Amplifier Features:
Timeless Ampeg bass tone to go
Takes visual cues from 1960s Rocket amplifiers
Iconic black diamond wrap
Signature sparkle grille cloth
Ampeg Legend preamp with 3-band EQ delivers monumental bass tone for country to rock
SGT overdrive packs on bite and sustain
Specially voiced 15-inch Eminence speaker in a ported cabinet
Balanced XLR output feeds a wet signal (post-EQ/-volume/-FX loop) into a soundboard or recording medium
SVT-derived Ultra Lo/Hi switches enhance your bass and treble registers
FX loop gives you options for inserting pedal and rack effects
External speaker output (8Ω minimum, 100W @ 8Ω) lets you increase your stage output or switch up your cab sound
0dB/-15dB instrument inputs accommodate active or passive pickups
1/8-inch auxiliary input for jamming along to backing tracks
1/8-inch headphone output for practice and recording